| | |
| --- | --- |
| | Newswatch |
---
KILAUEA ACTIVITY EASES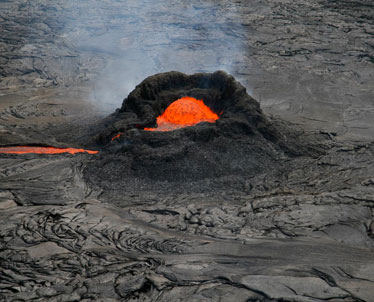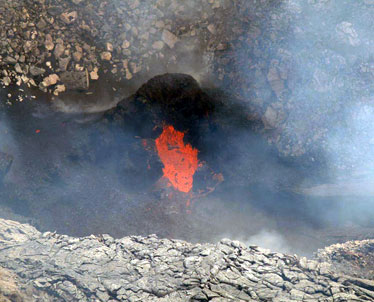 Hirono receives 2 endorsements
U.S. Rep. Mazie Hirono formally kicked off her re-election campaign for Congress yesterday morning, saying she will step up her campaigning though no strong competitor has challenged her yet.
Hirono, D-Hawaii, said she will continue to focus on environmental issues, promoting early education and supporting a push to withdraw American troops from Iraq.
"Regardless of whether someone runs against me or not, I intend to run a very strong campaign," Hirono said yesterday. "I don't take anything for granted."
Hirono's campaign launched a 30-second television commercial last week. At a news conference yesterday, Hirono received endorsements from the Hawaii chapter of the Sierra Club and the Hawaii State Teachers Association.
"She has always been an advocate for public education," said Roger Takabayashi, HSTA president, referring to Hirono's voting record on bills relating to education, including a recent bill to provide funding to state-supported preschools to promote early education.
East-West Center studies energy
The East-West Center is working with a South Korean government think tank to conduct research on energy security.
The center will be working with the Korea Energy Economics Institute on a joint "Energy Security in the North Pacific" project as part of a new Korean government program to strengthen Korean-U.S. relations and establish a partnership on energy diplomacy.
The center is getting a grant of 450 million Korean won, or about $435,840, for its efforts.
The center will conduct a Senior Energy Policy Seminar with senior government officials from the Korean Ministry of Knowledge Economy, the U.S. Department of Energy and the U.S. State Department.
The Korean institute also plans to send a senior research fellow or senior government official to Hawaii to work with East-West Center energy experts.
The center will also organize an international research conference on energy security in the North Pacific in December. The conference in Honolulu will examine energy and climate change, the emergence of global liquefied natural gas markets and the global struggle for access to energy resources.
Pharmacy school hits 'milestone'
The new College of Pharmacy at the University of Hawaii at Hilo was awarded candidate accreditation status, the second step of its accreditation process.
"This second phase in the accreditation process is a critical milestone," John Pezzuto, dean of the college, said in a news release.
The American Council on Pharmaceutical Education awarded the candidate status at a meeting this month. UH-Hilo accepted its first students in its pharmacy program last year.
UH-Hilo will be eligible for the next step -- full accreditation -- when it graduates its first class.
An accreditation team conducted the evaluation in Hilo and Honolulu during the week of April 21.
The College of Pharmacy received high marks in virtually every aspect of the evaluation report, and showed progress in every area since its first inspection in early 2007, the university said.
By this fall the pharmacy college will have about 30 faculty and staff, and 180 students. Current plans call for the addition of 80-90 students per year for a total of four classes.
UH's Aquino gets lifetime award
The alumni association of the University of the Philippines honored University of Hawaii-Manoa Philippines Studies Center Director Belinda Aquino with a lifetime achievement award.
The award was presented last month in Manila as part of the university's centennial.
Aquino got her bachelor's degree from the University of the Philippines and served as vice president for public affairs from 1989 to 1991 at her alma matter, where she also taught political science and public administration courses.
Earlier this year, Aquino endowed a chair in nursing at UP-Dillman in honor of her mother, Teresa Ancheta Aquino, according to the alumni association newsletter. Aquino said her mother was among the first batch of students in the nursing school.
The University of Hawaii at Manoa also honored Aquino last month with the Hung Wo and Elizabeth Lau Ching Foundation Award for Faculty Service to the Community. Aquino was recognized for her contributions to strengthening ties between the university and the community.
McKinley grads get scholarships
The McKinley High School Foundation has awarded $78,250 in scholarships to 54 of its 2008 graduates.
The money comes from an endowment fund of nearly $1 million. Scholarships were given based on academic achievement, community service and financial need.
Established in 1989, the foundation has provided more than $744,000 in scholarships to 415 graduates.
| | |
| --- | --- |
| | Police, Fire, Courts |
---
Crews rescue 6 from 3 mishaps
Firefighters were busy with several rescues yesterday.
At 12:20 p.m. a man injured his hip while hiking at Ice Pond, a hiking spot in Kalihi Valley, said Honolulu Fire Department Capt. Frank Johnson.
Firefighters airlifted him to an area where he was transferred to paramedics, Johnson said.
Earlier, two women in their early 20s called for help while stuck on a ledge at Manoa Falls, Johnson said.
A fire rescue helicopter responded at about 12:30 p.m. and lifted both women to safety uninjured, Johnson said.
At 1:30 p.m. three people hiking at the tide pools at Makapuu were hit by a wave and washed into the ocean.
They made it back to land but were injured while climbing back out, Johnson said.
A fire rescue helicopter lifted all three to Sandy Beach, where a woman with leg injuries was transferred to an ambulance, Johnson said.
Officers collar alleged arsonist
A 25-year-old Kaneohe man who allegedly tried to set a house on fire last week has been charged with arson and terroristic threatening, police said.
Jadon D. Brown of Mahinui Road was being held in lieu of $40,000 bail. He was arrested Friday at 5 a.m. at the Central YMCA, 401 Atkinson Drive.
Police said Brown went to a Kaneohe home on Tuesday at about 10:10 p.m. and argued with two people — a 61-year-old woman and a 25-year-old man. Brown went into the kitchen, grabbed a knife and threatened the man, police said.
Brown put down the knife and left, but returned 15 minutes later, cut a hole in the window screen and lit a curtain on fire, the victims told police.
The fire was extinguished before causing much damage.
NEIGHBOR ISLANDS
2 Hilo teenagers reported missing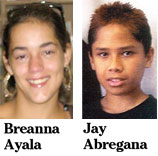 Big Isle police are searching separately for two Hilo teens.
Breanna Ayala, a 17-year-old Hilo girl, has been missing from her home since April 1. She is described as 5 feet 2 inches tall, about 126 pounds, with brown hair and eyes.
Jay Abregana, a 14-year-old Hilo boy, was reported missing from his home on July 1.
Abregana is 5 feet tall, about 100 pounds, with bleached hair and brown eyes.
Anyone with information about either teen's whereabouts is asked to call Big Island police at 935-3311 or CrimeStoppers at 961-8300 in Hilo or 329-8181 in Kona.
Occupants escape burning house
HILO» Fire destroyed the upper floor of a two-story Kailua-Kona house last night, the Hawaii County Fire Department said. Two occupants escaped without injury.
Firefighters said the fire caused $200,000 in damage to the home at 77-6433 Kepano Place. The cause of the 10:47 p.m. fire is under investigation.
HONOLULU
2 men arrested in Chinatown attack
Police arrested two 22-year-old men Saturday after they allegedly attacked a 43-year-old man in Chinatown and robbed him of $3.
One of the suspects — Daniel John Batten II, of Waikiki — was charged with second-degree robbery and a drug violation. He was released after posting $25,000 bail.
His alleged accomplice was facing similar charges.
Police said the victim was walking in Chinatown at about 9:30 p.m. when he was attacked. One of the suspects held him, while the other searched his pockets and took $3, police said. The suspects were arrested nearby.