Photographer's body recovered
The Coast Guard cutter Galveston Island recovered the body of award-winning local photographer Sergio Goes yesterday morning, less than a day after he was reported missing after diving with friends.
"He was doing what he liked to do. He always enjoyed taking a few risks to take some good shots, taking shots from helicopters, planes and underwater."
Raul Torres de Sa
Longtime friend of Sergio Goes
Goes' body was recovered about six miles south-southwest of Waikiki at 11:03 a.m. yesterday, the Coast Guard said.
Longtime friend and former brother-in-law Raul Torres de Sa said the discovery brings closure to his friends and family. The next step was to break the news to Goes' 6-year-old son, Gabriel.
"He doesn't know yet," Torres de Sa said. "He's playing with friends. We don't know how we're going to do this."
Goes was free-diving about two miles off Waikiki between the Royal Hawaiian Hotel and the Sheraton Moana Surfrider with four other people. When the four returned to their motorboat, Goes was missing.
The Honolulu Fire Department was notified at 3:40 p.m. Friday, and the U.S. Coast Guard joined in the search shortly afterward.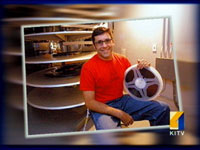 Award winning photographer Sergio Goes was reported missing after his relatives said that he was no where to be found and was last seen free diving off Waikiki.
The search resumed yesterday at first light. The Galveston Island, a 110-foot patrol boat, was on the last leg of a six-hour search when a lookout on the bridge spotted the body, wearing a black diving suit, floating on the surface of the water.
"We used the current winds and tidal conditions from our equipment, and (the body) could've gone farther," said Petty Officer 1st Class Andrew Reyes, the Coast Guard's search and rescue coordinator.
The body was transferred to the city Medical Examiner's Office. An autopsy is scheduled for tomorrow morning.
Torres de Sa said Goes was doing a warmup dive before bringing his equipment underwater to take photos.
"He was doing what he liked to do," Torres de Sa said. "He always enjoyed taking a few risks to take some good shots, taking shots from helicopters, planes and underwater."
Goes was a triathlete and a certified diver. Torres de Sa said Goes was with other experienced divers.
"One of those crazy things happened, and he just disappeared," Torres de Sa said.
Freelance photographer Hugh Gentry, 40, is a 15-year photography veteran who specializes in underwater shooting. He said there are many risks associated with free diving.
"You could drop 40 feet before you know it, and then you're working harder to get into position," Gentry said. "Your brain's working overtime and using oxygen."
Fire spokesman Capt. Frank Johnson said he was not certain of the circumstances that led to Goes' disappearance, but reminded the public that divers should always work together in groups.
"People should be diving together," Johnson said. "They had five of them in the water ... and they were trying to keep an eye on each other, but you just got to really be careful and watch out for your buddy."
Goes had lived in Hawaii for seven years, then moved to New York for some time. He returned to Hawaii in 2002 so his son could be born here.
He co-founded the Cinema Paradise Independent Film Festival with friend Chris Kahunahana.
For his documentary "Black Picket Fence," Goes won the Spirit Award and Best Original Score at the 2002 Brooklyn International Film Festival.
In his most recent work for Honolulu Magazine, Goes spent a year documenting the intricacies of life celebrated in Hawaii, from the local obsession with fireworks, to a traditional Filipino wedding, to dragon dancing at Chinese New Year celebrations.
Published in November last year, "Celebrations" won Friday night's Photo Essay award for the Society of Professional Journalists' 2007 Excellence in Journalism awards.
Judges called it "the strongest collection of images about a specific subject created by a single photographer, which showed a dedication of time, appreciation for the island lifestyle and its customs and traditions."