Protesters, workers clash over graves
HAENA, Kauai » Native Hawaiian protesters on the beach clashed with construction workers yesterday after a tense day at a home site at Naue Point where at least 30 bodies are buried.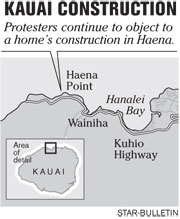 No one was arrested or injured, but both the protesters and the construction workers filed complaints with the police, who arrived at about 1 p.m.
The site, where a home is being constructed by California businessman Joseph Brescia, has been the subject of numerous legal battles over where to put the building, how far it should be set back from the ocean, and where the property line exists.
Construction started Monday after Kauai Police Chief Darryl Perry issued a clarification that the work done over the graves was not desecration. He halted the work last month when he said that work over the graveyard was a criminal offense.
However, Brescia received all permits, including approval from the Kauai Burial Council, to leave the graves in place.
A number of native Hawaiians have camped out on the beach since April to honor and protect the bodies unearthed and then covered over when Brescia started clearing the area in 2007.
Yesterday, officials from the state Department of Land and Natural Resources told them to remove their tents. And the construction staff put up a fence along the certified shoreline and began using a backhoe to clear the land over the graves.
The native Hawaiians, joined by members of the Office of Hawaiian Affairs Nature Rights and Culture Hale, said they were saying a pule, or chant, when construction workers came through the dust fence and started yelling at them.
But construction workers told police that it was they who were harassed and yelled at through the dust fence.
They filed a complaint. Protesters also filed a complaint, alleging the construction was keeping them from practicing their cultural rites.