3 challenge fines for removing rocks
The Kaneohe men's attorneys say they did not take the rocks off Maui for financial gain
Three Kaneohe men were fined $3,050 each for allegedly taking 934 river rocks from Maui.
But the fine amount could change as attorneys representing the men -- Charlie K. Bright, Ralph Chun and Victor Fonoimoana -- made a verbal request for a contested hearing following the Board of Land and Natural Resources' decision on the fines at a meeting yesterday.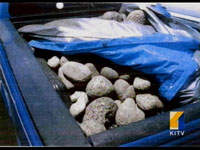 Three Oahu men face stiff fines after taking thousands of rocks from state conservation land without a permit.
On Aug. 28 the Ahuimanu men allegedly removed the rocks from a conservation district near the Paukukalo shoreline in Wailuku.
According to a state report, they attempted to transport the rocks to Oahu on the Hawaii Superferry before officials were made aware of it by the Division of Conservation and Resources Enforcement's Maui Branch. Bright said they took the rocks for their Mormon church, according to the report.
When they learned of the Superferry's $5 fare, their bishop said it was a good time to go to Maui to get new river rocks to replace old ones that no longer retained heat needed for an imu to cook kalua pig, according to the report. The kalua pig was to be used for church fundraisers to support the Boy Scouts, based on the report.
"We had good intentions. It was for a good cause. We didn't know it was illegal or that we needed a permit," Bright said, according to the report.
The three pickup trucks used to transport the rocks remain at a Maui base yard and will be returned to the men after fines are paid.
Attorney Thomas Otake, who is representing Bright, said the men's intentions to take the rocks related to cultural gathering rights to benefit the community, not themselves. "They didn't do it for financial gain," Otake said yesterday, adding that the men have dedicated their lives to help children and their church.
He also noted that more than 700 rocks were taken from private land after the owner gave them permission to do so. He acknowledged that the remaining rocks, about 200, were taken from state land.
Attorney Keith Kaneshiro, who is representing Chun and Fonoimoana, declined to make a presentation yesterday because he did not want to jeopardize his clients' rights.
During the meeting, board member Timothy Johns asked Sam Lemmo, administrator of the Department of Conservation and Coastal Lands, whether the fine was sufficient to act as a deterrent. Lemmo said he believed the men did not take the rocks to sell for a profit.
"I think this would certainly deter somebody from taking rocks for noncommercial use in a church imu-type setting," Lemmo said.