Isle photographer missing
Sergio Goes is lost after free-diving off Waikiki
Sergio Goes won a first-place award last night for his photo essay "Celebrations," published in Honolulu magazine, but the acclaimed documentary filmmaker and photographer was not there to claim his prize.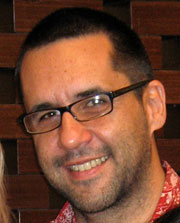 Sergio Goes: The acclaimed photographer went missing yesterday while free-diving
Brazilian-born Goes, who calls Hawaii home, disappeared yesterday afternoon while free-diving in waters off Waikiki Beach and had not been found as of late last night.
The search for Goes, who had been taking underwater photos yesterday, was scheduled to resume at first light today.
Longtime friend and former brother-in-law Raul Torres de Sa appeared resigned that he would hear bad news about Goes.
"We don't have any kind of idea what happened," he said. "It's kind of a strange feeling because we're on the beach right there and the body doesn't come back, when it disappears like that."
Torres de Sa said the real tragedy is that Goes leaves behind a 6-year-old son.
Goes, who is in his mid-40s, had been diving with four others from a recreational boat about two miles off Waikiki, out from the area between the Royal Hawaiian Hotel and the Sheraton Moana Surfrider.
The Fire Department received a call for help from friends at about 3:30 p.m. after they realized Goes was missing.
Fire rescue crews arrived in 10 minutes. Rescue divers, a fire helicopter and a police helicopter searched until sundown with no success. A U.S. Coast Guard boat assisted in keeping the area clear of other vessels during the search.
A source close to the investigation confirmed that Goes is the missing man.
The filmmaker was named by the Star-Bulletin as one of the "Ten to Watch in 2003." Goes gained acclaim for his documentary "Black Picket Fence," about a pair of best friends to trying to escape a poverty-stricken area of Brooklyn.
"Black Picket Fence" won an award at the Urban World Film Festival in New York.
A noted fine-art portrait and documentary photographer, Goes won the Society of Professional Journalism's top prize last night for his photo essay published last year in Honolulu magazine. The awards ceremony was held last night in Waikiki.
Goes had lived in Hawaii for seven years as his reputation grew, then moved to New York for a few years. He returned to Hawaii with his wife, Andrea, so their first child, Gabriel, could be born here in 2002.
Goes taught filmmaking and photography in the Pacific New Media Program at the University of Hawaii-Manoa's Outreach College.
Goes co-founded the Cinema Paradise Independent Film Festival with Chris Kahunahana.
Torres de Sa has been friends with Goes for more than 20 years, went to college with him in Brazil, introduced Goes to his sister and moved to Hawaii with him.