---
HAWAII
Hawaii gas prices hit record highs
Regular gasoline continued to set new records throughout much of Hawaii during the past week, with the statewide average hitting a high of $4.48, according to AAA.
Honolulu's average price is $4.37 a gallon for unleaded, 2 cents higher than last week, 25 cents more than last month and $1.19 higher than this time last year.
Hilo's average price is $4.50 a gallon, which is 2 cents higher than last week, 24 cents above last month and $1.20 higher than last year. The average price is Wailuku is $4.69 a gallon, a penny above last week, 18 cents more than last month and $1.10 higher than last year.
---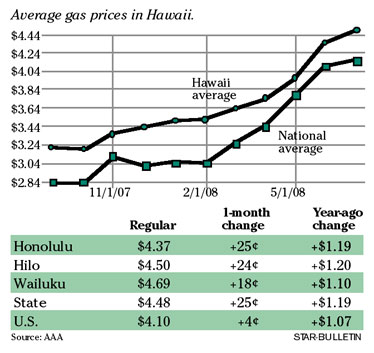 ---
Isle vacation rental site launched
Pretorius & McGrath Ltd.
, a Canada-based software company, yesterday announced the launch of
HawaiiGaga.com, the first search engine designed specifically for Hawaii vacation rentals.
The Web site finds, organizes, and catalogs isle vacation rentals, indexing the most relevant source for each property. It also hosts photos, discussion forums and allows users to write rental reviews.
Car rentals to offer tourism radio
Advantage Rent A Car
is introducing a global positioning system next week that will offer a virtual "tour guide" in cars rented at its Honolulu and Maui locations.
The agency is partnering with Tourism Radio, which will tell travelers about the surrounding area, road safety warnings and points of interest using the GPS system. The device plugs into the cigarette lighter and will be available for $9.99 a day.
Hoana Medical earns VA contract
Hoana Medical Inc.
, a Honolulu-based healthcare company, said yesterday it has formed partnerships with Veterans Administration hospitals in Florida and Nebraska as well as a healthcare system in Pennsylvania to improve safety in acute-care hospitals.
The company will provide its LifeBed system, which notifies hospital nursing staff if a patient's condition changes. The program is funded with $1.7 million from the U.S. Army Medical Research Command and the Telemedicine and Advanced Technology Research
Center.
Hawaii document firm acquired
The Blueprint Co., a Honolulu-based provider of reproduction and document management services, has been acquired for an undisclosed price by California-based
American Retrographics Co.
The buyout helps American Retrographics build its presence in eastern Asian markets, the company said yesterday.
Direct retailer enters joint venture
Pioneer Promotions Inc.
, an "As seen on TV" retailer and distributor headquartered in Honolulu, said yesterday it has entered into a joint venture with Washington-based
Tradeshow Marketing Co.
The alliance will develop and brand products for trade shows, television and retail. It gives the companies access to products at lower costs, Pioneer said, while allowing the testing of new items.
Bankoh to launch mortgage service
Bank of Hawaii
said yesterday it is introducing a mortgage account management center to give its residential loan customers online access to information on their first mortgages.
The bank said the free service will be available through www.boh.com starting Monday. Customers will be able to view their mortgage loan summary, posted transactions, taxes and interest paid, and escrow account information.
UH business scholarship formed
The Association of Government Accountants of Hawaii has established a scholarship at the University of Hawaii's Schidler College of Business.
The scholarship will assist students pursing an accounting or auditing career in public service. The initial gift of $25,000 was matched by the Shidler matching funds program for a total of $50,000.
---
BUSINESS PULSE