Driver perishes in head-on collision
A three-vehicle crash on Kauai sends nine to Wilcox Hospital
KAPAA, Kauai » A Kapaa man trying to pass a car on a curve was killed at about 9:20 p.m. Wednesday when his pickup truck hit a sport utility vehicle head-on.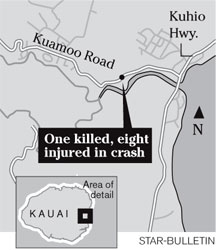 James Piekos, 24, of Wailua Homesteads, was driving an El Camino when, police say, he crossed a double yellow line around a blind corner on Kuamoo Road.
He crashed into a Ford SUV carrying six people.
Nine people in all -- Piekos, six in the SUV, plus two others in the car Piekos was trying to pass -- were taken to Wilcox Hospital. Three were admitted -- two from the SUV and one from the car. The two from the SUV remained at Wilcox last night, county officials said.
Kuamoo Road, a main artery to the Wailua Homesteads, was closed for about 3 1/2 hours following the crash.
Piekos was the eighth traffic fatality on Kauai this year, compared with five fatalities at this point last year.
In all of 2007, there were nine traffic fatalities on the island, and 13 people died in nine fatal traffic crashes on Kauai in 2006.