Lifeguards renew watch over popular Kauai beach
HAENA, Kauai » Kee Beach has become the first state park on Kauai to have lifeguards, county officials announced yesterday.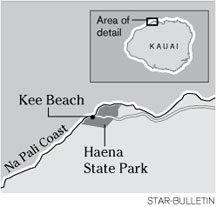 Kee, which sits at the end of the road on Kauai's North Shore, was visited by more than 700,000 people last year, according to the Hawaii Tourism Authority.
It is also one of the deadliest, with about 10 drownings since 1970, according to Patrick Durkin, a former lifeguard and water safety expert.
As the trail head to the Kalalau Trail sits just off the sand, Kee Beach also serves as the gateway to the Na Pali Coast, so lifeguards will be able to get trail conditions from hikers and better help people in trouble along the remote stretch of coast.
Hanakapiai Beach, the deadliest beach on the Garden Isle with more than 30 drownings since 1970, has been accessible only by land via a 2-mile hike along the trail.
But a Jet Ski at Kee, with two trained lifeguards, "can get there within 60 seconds," Durkin said.
"Time, really, is of the essence" in a vast majority of drownings, he added, and the new lifeguard tower will certainly help.
The reef at Kee also likely will benefit from a trained staff on hand, since quite a few snorklers at the beach end up walking along the reef, Durkin added.
"There's a whole lot of options once you're down there," he said.
County lifeguards were stationed at Kee for less than two years but left in 1993 due to liability concerns between the state and county.
"It's taken this long to clean" them up, Durkin added.
The lifeguards stationed there will be working out of an Ocean Safety Bureau truck and tent while the county works to get a temporary tower installed at the beach. A new, permanent tower is to be delivered sometime next year, county officials said.
County lifeguards are currently posted at nine beaches on the Garden Isle: Kee, Haena, Hanalei, Anahola, Kealia, Lydgate, Poipu, Salt Pond and Kekaha. With the addition of lifeguards at Kee, and earlier this year at Anahola Beach Park, the county hired four more lifeguards, bringing their total to 43 islandwide.