| | |
| --- | --- |
| | Newswatch |
---
Destructive driver gets 10 years
LIHUE » A Kapaa man who was drunk and high when he crashed into a house while eluding police in a stolen car was sentenced yesterday to 10 years in prison.
Christopher Almeida, 29, who has been in jail since being arrested in June 2007, was also ordered to pay more than $6,800 in restitution to the victims of his crimes.
Almeida failed to return his cousin's Ford Mustang last year, and, after police tried to stop him, he fled down Kawaihau Road in Kapaa, losing police but crashing into a house.
The resident, who was at home watching television in his living room, was injured in the crash and had to be taken to the hospital.
Almeida was able to flee on foot, but a woman came to the crash site and told police he was hiding in her home, just a few doors down.
Prosecutors said that blood tests showed he had methamphetamine and alcohol in his system at the time of the crash.
Almeida pleaded no contest to car theft, property damage and driving under the influence in April as part of a plea deal. Prosecutors added that he has previous convictions for theft, contempt, assaulting a police officer and burglary.
Regents praise UH's president
The University of Hawaii Board of Regents says UH President David McClain is doing an "outstanding" job, the highest level in the university's evaluation categories.
Board Chairman Allan Landon, in a letter dated July 2, noted that the university "faced notable and publicized challenges, including deferred facilities maintenance and leadership of UH-Manoa athletics."
The regents were impressed by the way McClain "provided leadership as the university responded to and learned from these situations."
The regents began their annual evaluation of McClain at their meeting in May.
Landon also cited McClain's leadership traits of even-handedness, constituent rapport and community engagement.
The regents also noted McClain's accomplishments, including maintaining accreditation on all campuses, updating and enhancing the university's strategic plan and strengthening programs focused on underserved groups and underrepresented populations, particularly native Hawaiians.
McClain's raise, and the raises of other senior executives at the university, are still being determined, said Carolyn Tanaka, UH vice president for external relations.
UH-Hilo gets grant for facility
A $682,982 grant from the U.S. Department of Education will be used for a new Center for Pacific Islander Education and Retention at the University of Hawaii at Hilo, U.S. Rep. Mazie Hirono announced.
The university is renovating an existing building to establish the center. The money will be used for planning and design of the renovation.
The total cost of the two-year project is nearly $2 million; the rest of the funds will be used for the actual renovation.
The center will house peer monitoring, tutoring, multicultural training and workshops and a library of education, leadership and cultural materials.
Funds raised for victims' burial
A mother and son killed in a murder-suicide will be buried in the Philippines if friends and family members can raise enough money.
Filipino community leaders and family members of Grineline James, 39, and her 7-year-old son, Michael, are raising funds to return their bodies to the land of her birth, said a news release by state Rep. John Mizuno.
James' husband, Michael Anthony James, 43, strangled her and drowned his son before hanging himself in their Mililani Mauka home. Their bodies were found July 2.
A memorial account has been set up at First Hawaiian Bank for anyone wishing to donate to help with expenses. Any bank branch will accept a donation or check made out to "Friends of Grineline and Michael James II."
Lingle signs cigarette safety bill
Gov. Linda Lingle has signed a bill that will require only fire-safe cigarettes to be sold in Hawaii beginning Oct. 1, 2009.
Reduced ignition cigarettes burn at a lower temperature, thus reducing the risk of fire caused by smoldering cigarettes.
Between 2001 and 2006, 438 fires started by cigarettes injured 10 people and caused $1.5 million in property damage, according to data from the Hawaii Fire Council.
According to New York State records, there are about 1,216 brands and styles qualifying as reduced ignition cigarettes, but there are currently 2,156 brands and styles of cigarettes in the Hawaii Tobacco Directory.
The bill was originally placed on the possible veto list because it did not give the Fire Council the resources to implement the program, which calls for a $375 fee for the council to certify each cigarette type to be sold in the state. The bill put the fees in the state's general fund, making them unavailable to the council, according to a news release from the Governor's Office. The fire chiefs will seek to change this in the next legislative session.
| | |
| --- | --- |
| | Police, Fire, Courts |
---
Motorist kills Kaneohe pedestrian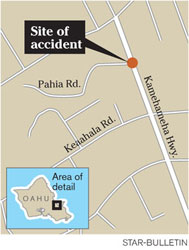 A pedestrian died last night after being hit by a car while crossing Kamehameha Highway in Kaneohe.
Police said the victim, a man believed to be in his 50s, was in a marked crosswalk near Kaneohe Market at 45-1100 Kamehameha Highway at about 9:50 p.m. He was heading to the makai side of the highway when he was hit by a 1997 Dodge van or station wagon that was in the middle Kahaluu-bound lane, police said.
Police said driver of the vehicle, a 46-year-old man, stopped after hitting the victim. The victim was taken in critical condition to the Queen's Medical Center, where he later died.
Police said speed was a "probable" factor in last night's accident, the 26th traffic fatality on Oahu this year. Investigators ruled out alcohol as a factor. At this time last year, there were 40 traffic fatalities. This is also the ninth pedestrian fatality on Oahu this year.
LEEWARD OAHU
Man surrenders in woman's assault
Police arrested yesterday a 23-year-old man who allegedly assaulted his girlfriend's 69-year-old mother in front of their Waianae home in February.
Police said the assault occurred during an argument outside the home at 11 p.m. Feb. 12. The woman was taken to the Waianae Comprehensive Health Center for treatment of a contusion to her right jaw and a broken right arm.
The man fled the scene. He turned himself in yesterday at the Kapolei Police Station and was arrested on suspicion of second-degree assault.
HONOLULU
Masked suspect sought in robbery
Police are looking for a masked man who robbed a teller at the Liliha branch of American Savings Bank on Wednesday.
The man walked into the bank at 1425 Liliha St. at about 5:15 p.m., approached the teller wearing a medical mask and brandishing a black handgun, and demanded money, police said. He fled on foot south on Liliha Street toward Vineyard Boulevard.
A second man was seen with the suspect prior to the robbery and is wanted for questioning, police said.
The bank robbery suspect is described as between 20 and 30 years of age, between 5 feet 5 inches and 5 feet 7 inches tall, weighing 135 to 140 pounds, with a dark complexion, wearing a white medical mask, a gray T-shirt, long black pants, white athletic shoes, a black do-rag on his head and prescription glasses, and carrying a bright yellow backpack.
Anyone with information is asked to call CrimeStoppers at 955-8300 or *CRIME on a cell phone.
WAIKIKI
Charitable group warns of lei scam
An unauthorized group of adults and children has been soliciting donations for leis in Waikiki on the pretense of benefiting the Boys & Girls Club Hawaii, the organization said.
Boys & Girls Club Hawaii says the organization is not fundraising in such a manner and that this group is not authorized to do so. For information on legitimate activities of Boys & Girls Club Hawaii, call 949-4203 or go to www.bgch.com.
WEST OAHU
Boy allegedly takes classmate's phone
Police have arrested a 16-year-old boy who allegedly robbed another 16-year-old boy of his cell phone at a Waipahu bus stop.
Police said the boy saw his schoolmate at the bus stop at 8:30 a.m. yesterday and allegedly demanded the phone, used force to grab his backpack, removed the cell phone from the backpack and fled.
The victim filed a police report. Police found the suspect and arrested him for investigation of second-degree robbery.