Lotus now lets clubbers rage until 6 a.m.
WITH FIVE ROOMS on three levels,
Lotus Soundbar
is one of the best spots in Honolulu if you like variety when you party.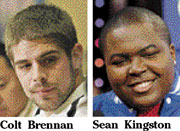 The nightclub will demonstrate its versatility yet again on Friday, when DJ Quentin Harris arrives for a headliner set as drum-n-bass monthly "Audiolab" presents an ambitious lineup of 16 DJs in the room next door and the club introduces its new after-hours party.
Harris, who hails from Detroit, is in town to promote his new album, "Mix the Vibe." King Street Sounds and Good Life Entertainment partnered with Lotus to bring him to Waikiki.
The underlying themes of strength and unity drive "Audiolab" this month, where organizers firmly believe there is power in numbers. DJs Antikkz, Bass X, Kause, Rayne, Saya and Toki are among the dozen-plus set to spin from 11 p.m. to 4 a.m. Visit myspace.com/bassx for more info.
And if 4 a.m. is still too early to go home, Lotus is now open until 6 a.m. on Fridays and Saturdays with Rareform Entertainment on hand to help keep the party in full effect...
FORMER UNIVERSITY of Hawaii quarterback Colt Brennan was in town last weekend, hosting autograph sessions Saturday at Pictures Plus Pearl Highlands before moving to Kapahulu's Barefoot League on Sunday. Both events were sold out, with Brennan signing more than 1200 items over those two days.
Besides the promo work, Brennan spent Saturday night at Aaron's hanging out with Peter Maharaj and some former Warrior teammates. Davone Bess, Ryan Mouton and Ryan Grice-Mullins helped Brennan celebrate Maharaj's birthday with dinner before the Washington Redskins quarterback signed even more autographs during the premiere of Maharaj's new "Sexy in the City" weekly ...
NEWS AND NOTES: Chinatown favorite NextDoor announced it has closed for renovations and will reopen Aug. 1. Plans call for a redesign of the main room, improvements to the air conditioning (again) and tweaking of the sound system after repeated noise complaints got the club in trouble with the Honolulu Liquor Commission. "Showdown in Chinatown" will temporarily relocate to thirtyninehotel on Saturday; all other weekly parties are expected to return next month ... The ever-elusive Sean Kingston is scheduled to play Oahu yet again, but this time I think he'll actually make the trip. BAMP Project announced Kingston will join Steel Pulse at the Waikiki Shell on Aug. 24. Tickets are on sale now ... After a successful run at Venus Nightclub, Island Fire Entertainment and Artist Groove Network hosted the final installment of "Recess" last week. The two promotional crews have no immediate plans for a new Wednesday event ...
SATURDAY'S PICKS: The Quintessentials headline an all-ages homecoming at Anna Bannana's, with opening sets by the Substitoots and Phoenix Rose starting at 9 p.m. This show will also be the final gig for local rockers Extra Stout ... After a brief performance hiatus, Tempo Valley is back on the grind. They return to Jazz Minds Cafe with DJs Fame and Azia this weekend, with guest sets by B-Cap, Iyeoka and Bridget Gray also planned ... Stand Alone Intertainment partners with Xccelerate Hawaii Magazine for an 18-and-over launch party at Fashion45. The fun starts at 10 p.m. with live entertainment, a fashion show and bikini contest all planned. Call 781-2672 for the VIP hook-up ...
NEXT WEEK: Has Panama Hattie's changed ownership? It appears that way, according to a flier for "808 Aspects" that describes the venue as 4Play Nightclub. Expect B-boy battles and scratch showcases by DJs Skid and Yogurt, starting at 6 p.m. Thursday ... If you enjoyed Kaba Modern's recent visit, don't miss the Jabbawockeez at the Blaisdell Arena on Thursday. They headline "Summer Session," with guest performances by Krystilez and NippOnDaMic. Doors open at 6 p.m. ... Reggae band Israel Vibration returns to Hawaii for four shows, starting Thursday at Pipeline Cafe. They'll be joined by Natural Vibrations and Pacific Sounds Outernational before moving on to Maui, the Big Island and Kauai next weekend. Visit www.inticketing.com for a complete schedule ...