Fatal punch leads to conviction
The possible sentence for Less Schnabel Jr. upsets the victim's kin
Christopher Reuther landed on Oahu on April 22, 2007, to visit the island for the first time and to consider attending law school at the University of Hawaii.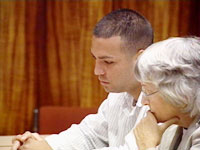 After three days of jury deliberation, 23-year old Less Schnabel was found guiltyof manslaughter for punching a man to death
By midnight he lay unconscious in a Nanakuli Beach Park parking lot from a single punch to his head. He died four days later of a brain hemorrhage.
Yesterday an Oahu jury found the man who delivered the fatal blow, Less Schnabel Jr., guilty of manslaughter.
"I want to commend the jury, especially for their hard work for being able to see through what I say is a smokescreen of the defense's story," said Darrell Wong, deputy city prosecutor.
Defense lawyer Debra Loy said Schnabel punched Reuther, 34, in self-defense. Loy, Schnabel and his family, who sat through the trial, declined comment.
The verdict came after less than two days of deliberations and shortly after a judge reread a portion of the jury instructions to the jurors at Loy's request.
The jury found Schnabel, 23, not guilty of unlawfully entering Reuther's rental car as Reuther lay unconscious on the ground.
Circuit Judge Michael Town denied Wong's request to revoke Schnabel's $50,000 bail and order him into custody pending sentencing on Sept. 10.
Loy said Schnabel never missed an appointment while free on bail and never tested positive for drug use.
"He also completed anger management during his time out," she said.
Under Hawaii sentencing laws, Town can sentence Schnabel to either 20 years in prison or 10 years' probation.
"I don't understand how someone can get probation for manslaughter," said Reuther's mother, Judy Wilson, from her home in North Carolina. "This whole thing has been a nightmare."
Wilson and Reuther's older sister, Heather Litton, attended the first few days of the trial. Wilson said she plans to return for Schnabel's sentencing.
In 1980 the state Legislature enacted a law to make prison sentences mandatory for persons convicted of Class A felonies, which have a 20-year maximum prison term. Then in 1994, state lawmakers amended the law to allow judges the discretion to impose suspended prison sentences or probation for Class A felony drug offenses. Two years later the Legislature raised manslaughter to a Class A felony from Class B (which has a 10-year maximum prison term) but continued to allow judges the discretion to impose probation in "extremely rare circumstances where strong mitigating circumstances exist," according to the committee report.
Wong believes just the opposite is true in this case.
He had hoped to tell the jurors of an incident in 2002 for which Schnabel, then 17, was prosecuted in Family Court. According to documents Wong filed with the court prior to trial, Schnabel caught a man off guard with a single punch, breaking the bone surrounding his left eye and pushing the eye backward. Medical officials testified in Family Court that the victim suffered a traumatic brain injury and nearly died.
Wong said he built his whole case around being able to tell the jury about that incident and other assaultive behavior Schnabel committed before he turned 18. He said he was not allowed to mention them unless Schnabel took the witness stand in his own defense. Schnabel did not.
Wong said he plans to bring it up during sentencing.