The 2000 Honda Civic was the most sought-after vehicle by Honolulu car thieves last year, according to a new survey that looked at auto thefts nationwide.
HOT WHEELS NATIONWIDE
The following were the most frequently stolen vehicles in the nation last year, according to the National Insurance Crime Bureau. For the full report, visit www.nicb.org.

1. 1995 Honda Civic

2. 1991 Honda Accord

3. 1989 Toyota Camry

4. 1997 Ford F-150 Series Pickup

5. 1994 Chevrolet C/K 1500 Pickup

6. 1994 Acura Integra

7. 2004 Dodge Ram Pickup

8. 1994 Nissan Sentra

9. 1988 Toyota Pickup

10. 2007 Toyota Corolla

The statistic, provided by the nonprofit National Insurance Crime Bureau, came as no surprise to auto theft detail head Lt. James Strickland of the Honolulu Police Department.

"That list is pretty accurate, based on what I see coming across my desk in the mornings," Strickland said. "When you look at the list, those cars are easy to steal."

The 1992 Honda Accord and 1994 Acura Integra rounded off the top three for Hawaii's most frequently stolen vehicles. The 1995 Honda Civic was the nationwide favorite for car thieves last year, with the 1991 Honda Accord and the 1989 Toyota Camry coming in second and third.

The Honda Civic has consistently been the most popular for car thieves for the past several years, police said. Older vehicles provide the best market for stolen vehicle parts, according to the crime bureau.

One Honolulu man's 2000 Honda Civic has been broken into six times, mostly recently about six months ago. The car, bought new, has also been stolen once, said the owner, Jeff, 27, who declined to give his last name.

When police found it abandoned after a week, his speakers, music, clothes and shoes were gone, and the interior was covered with cigarette burns.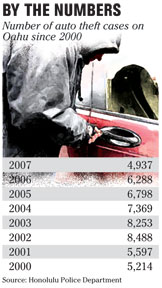 When asked whether he has thought about buying another car, Jeff said, "Lots of times."

"But my car is paid off and it works still," he said. "It just has a big bull's-eye."

Each time his car was broken into, his stereo system and speakers were ripped out. His locks have been punched out, his windows shattered.

In his most recent break-in, Jeff parked his Civic at the airport. When he returned, his driver's-side window was bent in a few inches. Insurance has covered much of the damage, but Jeff said he has spent thousands to replace parts and possessions.

"The first and second time, you really feel like a victim, and you get all upset," he said. "With the latest one, I was upset, but now it's like, 'What can you do?'"

The older cars also tend to top the list because of their less stringent security systems, Strickland said. Newer models often come equipped with theft-deterrent devices like an engine mobilizer that will start only with a computer-coded key.

"The computer-coded keys have made a difference in the auto thefts," Strickland said. "That's why there are fewer vehicles in the above-2000 range. That's one thing I can definitely point to that has reduced car thefts."

The National Insurance Crime Bureau, which based its survey on FBI statistics, said auto thefts nationwide are on the decline. The FBI's preliminary Uniform Crime Report data reveal that auto thefts are on track for an 8.9 percent decrease for 2007 from the previous year.

"The continuing national decrease in vehicle theft is a positive sign that the fight against vehicle theft by law enforcement, the insurance industry and the NICB continues to be effective," said Robert Bryant, crime bureau president and chief executive officer.

Auto thefts in Honolulu saw a dramatic drop last year as well, hitting an eight-year low. In 2007, auto thefts saw a 21.5 percent drop to 4,937 from 6,288 in the previous year.

In 2002, Hawaii was saddled with the third-worst property crime rate in the nation by the FBI. Part of it was because auto thefts peaked that year with 8,488 cases.

Richard Matsumoto's family has two Honda Civics. He drives a 1999 model, while his parents drive the 2000 model. His parents' car was broken into when it was with its previous owner.

"Everybody likes to build it up," Matsumoto, 17, said of Civics. "Hondas are the most common, I think, because they're affordable, and the parts you get for it are interchangeable."

Matsumoto said he has heard of at least five different but easy ways to break into a Civic because his friends are well versed in how the car operates.

The Farrington High School student said his Civic is equipped with an alarm system that has a hood sensor and a backup battery. The alarm will continue to sound through the backup battery, just in case any would-be thieves cut the alarm lines.

"You always have that worry in the back of your mind," Matsumoto said. "So you just try to do whatever you can to stop it."
SAFETY TIPS
The National Insurance Crime Bureau offers the following as a "layered approach" to preventing auto theft:

» Common sense: The cheapest form of defense is to simply employ the anti-theft devices that are standard on all vehicles: locks. Lock your car and take your keys.

» Warning device: Having and using a visible or audible warning device is another item that can ensure that your car remains where you left it.

» Immobilizing device: Kill switches, fuel cutoffs and smart keys are among the devices that are high and low tech but extremely effective. Generally speaking, if your car won't start, it won't get stolen.

» Tracking device: Some systems use GPS to track your vehicle. Others use radio frequency technology and help law enforcement track and recover them quickly.