Plan would lift subs' salaries
Substitute teachers at Hawaii public schools would get an 8 percent pay raise, their first salary boost since July 2006, under a proposal moving through the state Board of Education.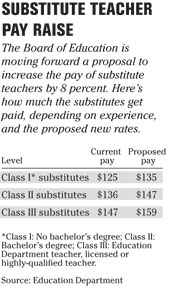 The plan to award the substitutes two 4 percent raises, one effective this month and another on Jan. 13, is being recommended by the state Department of Education after lawmakers passed a bill requiring wages of substitute teachers to be adjusted to pay hikes given to regular teachers in negotiations between the Hawaii State Teachers Association and the state.
Lawmakers introduced Senate Bill 2652 and Gov. Linda Lingle signed it into law in the wake of lawsuits filed by substitute and part-time teachers who claim the Education Department has underpaid them by millions of dollars over the years.
A school board Committee on Budget and Fiscal Accountability on Monday approved the suggested pay increases, which are expected to cost the Education Department just more than $3 million in fiscal years 2009 and 2010.
Depending on experience, isle substitute teachers earn between $125 and $147 per day -- rates that were last set by the Legislature and took effect July 1, 2006. On average, about 1,000 of 4,700 substitutes work at public schools each day.
If the full school board votes for the raises, substitutes would get between $135 to almost $159 for a day in the classroom.
School board member John Penebacker supported the new pay scale, but said he worried about its impact on the Education Department's budget. Calling it an "unfunded mandate," Penebacker said education officials should have asked the Legislature for extra money for the proposed salary jump.
Schools Superintendent Pat Hamamoto said the projected expenses would be covered with federal funds, money that schools receive through the weighted student formula and savings from unfilled positions. She said the Education Department would request more state money for future raises.
But Paul Alston, an attorney representing substitute teachers seeking more than $25 million in back pay, said the planned salary adjustments would still shortchange substitutes by essentially delaying by one year their first 4 percent raise.
Full-time teachers ratified a two-year contract in May 2007, and received the first of two 4 percent raises two months later.
"Too little too late, but better late than never," Alston said. "They are still one year missing."
Education Department Chief Financial Officer James Brese said beginning in January, the salary of substitutes and regular teachers should rise together.
"This is the first opportunity according to the law that was just passed that said that we were able to do this," he said.
In December 2005, Circuit Judge Karen Ahn ruled that the Education Department failed to comply with a 1996 law requiring it to pay substitutes the same daily rate as full-time employees with four years of college, known as Class II teachers.
The lawsuit contends salaries for substitutes rose about 11 percent from 1996 to early 2005, while the pay for Class II teachers climbed more than 40 percent during the period. The state's attorneys are appealing the decision, having argued the 1996 law is unclear and that the department is paying substitutes the right amount.
A similar lawsuit filed by part-time teachers is on hold pending the outcome of the state's appeal.