Kailua Road sees second fatality
Some residents cite more speeding and traffic on the street
STORY SUMMARY »
Some Kailua residents are calling for a traffic light to be installed at a busy intersection where a 27-year-old pedestrian was struck by a van Friday and later died.
Brandon Anderson, a father of two from Hilo, was hit by a van driven by an 87-year-old man while walking in a marked crosswalk at Kailua Road and Uluoa Street.
While police ruled out speeding on the part of the driver, area residents said traffic and speeding on that stretch of Kailua Road has increased over the years. Residents also noted that it's difficult to see the crosswalk at night.
---
FULL STORY »
The death of a 27-year-old pedestrian over the weekend has resurrected debate over speeding on Kailua Road. It was the second pedestrian fatality on that thoroughfare this year.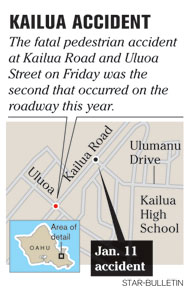 Brandon Anderson of Hilo died Saturday after he was struck by a van while in a marked crosswalk on Kailua Road at Uluoa Street, a block from Castle Medical Center.
Some residents are recommending a traffic light be installed at the intersection, noting increased traffic and speeding on Kailua Road.
"Cars are just zooming by," said Virginia De Castro, who has lived on nearby Manu Aloha Street since 1969. "It's scary."
The nearest Kailua Road traffic light is located at Castle Medical Center.
Residents estimate more than 200 vehicles a day go to the nearby service station, 7-Eleven, YMCA, Faith Baptist Church and adjacent neighborhoods by passing through the intersection.
Janie Blumenstein, whose husband and daughter came upon Friday's pedestrian accident coming home from the Fourth of July festivities in Kailua, said she has witnessed three vehicle accidents and several close calls at the intersection in the past year.
"It's frightening," Blumenstein said. She also noted the crosswalk is not well-lit.
De Castro said, "You can't see the crosswalk at night."
Anderson was walking from the south side of the crosswalk when he was hit by the vehicle, driven by an 87-year-old Kaneohe man, around 9 p.m. Friday. He died at the Queen's Medical Center from injuries to his head, leg and torso.
Police ruled out speed, alcohol and drugs on the part of the driver. The medical examiner said Anderson had not been using alcohol or drugs.
Anderson was in Honolulu to receive medical treatment at Castle, according to his father, Mitchell, an associate professor of mathematics at the University of Hawaii at Hilo. Anderson, who has two children, a 3-year-old boy and 6-year-old girl, had stopped about a block from the hospital to make phone calls to relatives before checking in to the hospital, Mitchell said, and then he crossed the intersection and was hit.
Not far away, Paena Magarro was killed Jan. 11 after she was struck by an allegedly drunken driver. Magarro, 69, was hit by a vehicle about 5:15 a.m. while she attempted to cross Kailua Road at Ulumanu Drive to get to a bus stop.
She was not in a crosswalk.
Charles Prentiss, chairman of the Kailua Neighborhood Board, said residents had requested the installation of a traffic light at Ulumanu Drive -- the road leading to Kailua High School -- more than a year ago, but the city said "it wasn't warranted."
Prentiss recommended that the city take a second look.
City transportation officials are researching the matter.
"I would have to get together with my staff to find out more background on this issue and look at the current issue, as well," said Wayne Yoshioka, director of the Department of Transportation Services.
Star-Bulletin reporter Rod Thompson contributed to this report.