THE ELECTRIC KITCHEN

Flock to Korean Festival for bodacious bibimbap
The Hawaii Korean Chamber of Commerce presents the Seventh Annual Korean Festival on Saturday at Kapiolani Park. This one-day, free event will feature Korean music, dance, food, cultural displays and family activities, as well as Korean-made and local products.
KOREAN FESTIVAL
» When: 10 a.m. to 9 p.m. Saturday
» Place: Kapiolani Park and Bandstand
» Admission: Free
» Parking: Free at Kapiolani Community College with a free shuttle from 10 a.m. to 9 p.m.
» Call: 792-9321 or visit www.koreanfestivalhawaii.com

Highlights include Korean cooking demonstrations, a kim chee eating contest, a Korean song contest and all-day entertainment and performances by local Korean dance studios and others.
The Korean Festival is one of the largest and most vibrant ethnic festivals in the state, attracting tens of thousands of residents and visitors. The festival also unites the community, as it draws more than 400 volunteers representing more than 40 Korean and local organizations.
To rouse your appetite for tasty Korean food, festival organizers shared these recipes. The recipe for kalbi is from Palama Supermarket, well known for kalbi, Korean-style sushi and a large assortment of kim chee. Pacific Beach Hotel's Oceanarium Restaurant shared a recipe for Pacific Bibimbap - an updated version of the traditional Korean mixed rice and vegetable dish.
Kalbi
Marinated short ribs, courtesy Palama Supermarket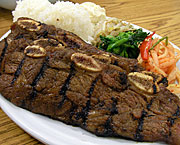 1 yellow onion, cut into chunks
» Marinade:
1 stalk green onion, in 1-inch lengths
2 cups soy sauce
1 teaspoon pepper
1 teaspoon minced ginger
1 tablespoon minced garlic
1 cup sugar
1 tablespoon sesame oil
10 pounds short ribs
To prepare marinade: Place onions into food processor or blender; puree. Combine with remaining marinade ingredients. Add ribs and marinate at least a day.
Broil or grill to desired doneness. Serves 12.
Approximate nutritional information, per serving (assumes all marinade is absorbed): 400 calories, 19 g total fat, 8 g saturated fat, 100 mg cholesterol, greater than 2,500 mg sodium, 21 g carbohydrate, 1 g fiber, 18 g sugar, 35 g protein
Pacific Bibimbap
Mixed vegetables, beef and rice, courtesy Oceanarium Restaurant, Pacific Beach Hotel
3-1/2 cups cooked rice (see note)
1 tablespoon unsalted butter, cut into small cubes
2 tablespoons Ko Choo Jang Sauce (recipe follows)
Kosher salt, to taste
1/2 cup cooked bulgogi (recipe follows)
2 eggs, cooked thin and crepelike, then sliced
1/8 cup edamame (blanch soy beans in boiling water, then remove beans from pods before measuring)
2 tablespoons diced, lightly salted and drained Japanese cucumber (dice and place in colander; lightly salt and let sit 8 minutes, squeeze dry before measuring)
2 tablespoons diced ajitsuke shiitake mushroom (preserved seasoned shiitake mushrooms)
2 tablespoons diced takuan (Japanese pickled white radish)
2 tablespoons beni shoga (Japanese pickled ginger)
3 to 4 tablespoons chopped won bok kim chee
3 tablespoons thinly sliced green onions (cut on diagonal)
1/2 tablespoon bamboo charcoal-flavored sesame seeds
Kizami nori (thin, dried shredded seaweed), for garnish
While rice is hot, add butter, salt, ko choo jang sauce; mix gently but thoroughly.
Fold in remaining ingredients except nori - reserving a little of each for garnish - until evenly distributed in rice. Adjust seasonings to taste.
To serve, place rice in serving bowls or on plates and garnish with reserved ingredients and nori. Makes 2 servings.
Approximate nutritional information, per serving: 650 calories, 14 g total fat, 6 g saturated fat, 230 mg cholesterol, greater than 1,500 mg sodium, 107 g carbohydrate, 4 g fiber, 16 g sugar, 21 g protein
Note: When cooking rice, reduce amount of water by about 3 tablespoons (instead of the normal 1-1 ratio normally used). This will compensate for liquid ingredients added later.
Ko Choo Jang Sauce
1-1/2 tablespoons sugar
1-1/2 tablespoons honey
2 tablespoons soy sauce (Aloha brand preferred)
2 cups ko choo jang sauce (Parks' brand preferred)
Combine ingredients and mix well. Store in airtight container in refrigerator until ready to use. Makes about 2-1/2 cups.
Approximate nutritional information, per serving: 15 calories, no fat or cholesterol, 100 mg sodium, 3 g carbohydrate, no fiber of protein, 3 g sugar
Bulgogi
1/4 pound beef flank steak, thinly sliced
» Marinade:
1/2 cup soy sauce (Aloha brand preferred)
1/2 cup sugar
1/2 cup water
2 cloves garlic, chopped
Combine marinade ingredients; mix well. Add beef and marinate a few hours.
Remove beef from marinade and place in hot skillet on medium-high heat; cook to desired doneness.
Remove from pan and set aside until ready to use. Serves 2.
Approximate nutritional information, per serving (assumes 100 percent of marinade is absorbed): 320 calories, 5 g total fat, 2 g saturated fat, 25 mg cholesterol, greater than 4,000 mg sodium, 55 g carbohydrate, no fiber, 51 g sugar, 20 g protein
---
Hawaiian Electric Co. presents this weekly collection of recipes as a public service. Many are drawn from HECO's database of recipes, accessible online at
www.heco.com
.