Tattooists urge stricter laws to avoid disease
Hawaii tattoo artists and body piercers are seeking stronger laws to reduce the risk of spreading hepatitis or HIV through dirty needles.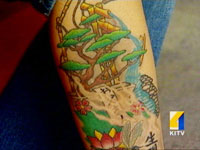 Tattoo's have become more popular in the recent years, some say it's time to strengthen the law regulating the industry.
They met with lawmakers yesterday to discuss updating the 27-year-old licensing exam, which does not even mention hepatitis, regulating body piercing for the first time and allowing traditional Hawaiian tattooing.
"We need to encourage the tattoo industry to create new habits," said Sean McCready, owner of the Waikiki shop Tattoolicious. "We want to get everybody on the same page to protect against disease and contamination."
Tattooists got involved with the lawmaking process in April when their protests helped scuttle a measure that would have deregulated the industry.
They worried that unsafe amateurs would start practicing tattoo art out of their homes, spreading blood-borne diseases and damaging the tattoo industry in Hawaii, which they said is the most tattooed state in the nation.
Health experts have not found evidence of any disease outbreaks in Hawaii due to unsafe tattooing, said Larry Lau, the Department of Health's deputy director for environmental health.
"Tattoos are dangerous," said Dr. Alan Tice, of the Queen's Medical Center. "We have to be very careful and cautious. Tattooing is an ideal way to spread these blood-borne pathogens, and body piercing is, too."
Suggestions for new tattoo laws would require artists to have hepatitis B immunization and proof of a negative tuberculosis test. Artists would have to pass an upgraded exam, and traditional tattooists would have to use disposable stainless-steel needle heads or sterilized bone tools.
People wanting to give tattoos at conventions or cultural demonstrations would have to meet many of the same requirements.
Increased licensing and testing fees could be used to generate up to $50,000 to help the state government monitor the tattoo industry.
A body-piercing bill would require shops to be clean and artists to take a test on sanitary practices. It would also ban tongue splitting, braiding, amputation, skin peeling and genital modification unless performed by a licensed medical doctor.
"It's unusual for experts in a profession to ask for more regulation," said Rep. John Mizuno (D, Alewa Heights-Kalihi), vice chairman of the House Health Committee. "The biggest concern was the health and safety of the public."