Home work starts atop graves
LIHUE » After declaring victory last month, protesters trying to preserve a Hawaiian cemetery were blindsided when construction began yesterday at a home site in Haena.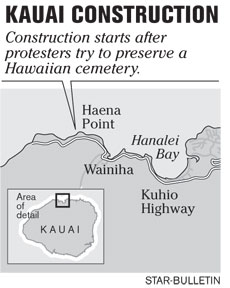 After threatening the contractor and landowner Joseph Brescia with arrest for the alleged desecration of the 30 graves on the site last month, Kauai Police Chief Darryl Perry said yesterday that the permits obtained by Brescia, however misguided, keep workers or the landowner from being charged with any crime.
Police said construction started yesterday, with the clearing of the lot and the erecting of silt fences at the site, which sits on Naue Point, just off Alealea Road. Protesters said there was also a cement pour over some of the graves.
The chief's decision was a betrayal, said Kaiulani Edens-Huff, who has camped near the site for months to protect the graves of her ancestors.
She was not on site yesterday, as she was supposed to meet Perry in Lihue around the same time that construction began.
"Nobody ... told us the deal was off," Edens-Huff said yesterday. "Police are taught not to believe in coincidences, and neither do I."
Yesterday's quiet beginning, in which only one person videotaped the construction, was in contrast to last month's planned protest, when about 75 people were on the site, ready to protect the graves with force.
At the time, Perry threatened the contractors with arrest.
The "clarification" yesterday came after meetings with the county attorney and the attorney general's office.
The Department of Land and Natural Resources and the Kauai Island Burial Council have the right to define what is desecration, Perry said.
"Does putting a cement slab on burial sites constitute desecration?" he asked. "No, not according to the DLNR on the recommendation of the Burial Council."
Brescia, who bought the land from movie star Sylvester Stallone in 2001, has jumped through numerous legal hoops in the past few years to build on the site.
In 2003 his shoreline certification was challenged, and later the case of his setback from that shoreline was reversed by the state Supreme Court.
Brescia finally received approval to build his home in April, despite protests from native Hawaiians who said the land was a cemetery and should be left alone.
Edens-Huff said yesterday that she intends to file legal challenges and that plans she has seen do not include septic tanks.
"I'm disappointed but I'm not done yet," she added.
Perry said yesterday that he expects more protests, but police officials said they were taking no special precautions to protect the site.
Perry also said he hopes it is not the end of the discussion.
"I hope that somewhere down the line, a leader of great vision will ... correct the unconscionable decisions by some of our appointed public officials who authorized/permitted the building of this home, and future homes under similar circumstances," he wrote.