ON THE SHELF
Isle Pages
New book releases from Hawaii authors
"We Fought the Navy and Won: Guam's Quest for Democracy"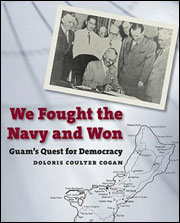 By Doloris Coulter Cogan
(University of Hawaii Press)
Paperback, 244 pages, $24)
The critical portion of this book covers the five-year period leading to the passage of the Organic Act of Guam, which established the island as a U.S. territory and lifted years of military rule. But writer Doloris Coulter Cogan includes an extensive back-story, beginning with the landing of Magellan on the island, the coming of the Catholics and the Spanish, occupation by the Japanese during World War II, and finally liberation by U.S. troops.
Cogan, as a young journalist in Washington, D.C., wrote and edited the Guam Echo, covering the events leading to passage of the Organic Act and meeting many of the principals. Her book is both a history and a personal tale of her encounters.
Cogan will make two local appearances for the book:
» Friday: A talk at the Center for Biographical Research, Henke Hall, 1800 East-West Road, noon to 1:15 p.m.; free. Call 956-3774.
» Saturday: Book signing, 4 to 5 p.m., Borders Ward Centre. Call 591-8995.