| | |
| --- | --- |
| | Wood Craft |
---
Singers stand tall for those touched by breast cancer
Some of Hawaii's top singers are on the Pink CD and a group of them showed up to perform for the CD's release party at Ruth's Chris at Restaurant Row Saturday. The CD will benefit Maui Memorial Medical Center Foundation. Highlights included
Nina Kealiiwahamana
singing "Paoakalani" and a fabulous duet with
Willie K
on "Makee Ailana," written by Nina's grandfather,
James K. Ii
. Other singers, some from Maui, on the CD include
Melveen Leed, Kaena Brown, Dani Girl, Paula Fuga, The Girlas, Lehua Kalima Heine, Namahana, Na Waihooluu O Ke Anuenue, Alakai Paleka, Love Pacheco, Lahela Rapozo
and
Pomai Williams
. The songs of inspiration and hope on the CD are dedicated to all whose lives have been touched by breast cancer. For purchase info, call Maui Memorial at (808)242-2630 or visit
www.MauiHospital Foundation.org
...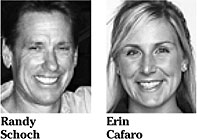 Randy Schoch
, who has the Hawaii Ruth's Chris and Romano's Macaroni Grill franchises, attended the event. He comes to Hawaii every summer with wife,
Cheri
, son
Randy Jr.
, 16, and daughter
Victoria
, 14. Randy said that now that his son is 16 he works in the restaurants when they visit ...
The Brothers Cazimero, riding high with their new "Destiny" CD, will do a show at the Kahala Hotel's Plumeria Beach House July 11. Tickets, with a seafood buffet, are $45, or $25 for the show only. Call 739-8760 ...
ERIN MAKES THE OLYMPICS ROWING TEAM
Erin Cafaro
, who spent the day before last Christmas training on the rowing machine at Clark Hatch, has been named to the U.S. Olympic women's rowing team. Erin, 25, is 5 feet 10, 155 pounds, and will have the bow seat in the women's 8 competition. She was gunning for the Olympics as a member of the U.S. National Team when she visited Hatch. She and her parents,
John
and
Vian Cafaro
, were visiting Kauai from Modesto, Calif. No Kauai gym had a rowing machine that was equipped to measure Erin's training that the national team requires, so she flew here. Erin's brother,
J.D.
, was a defensive end for Cal at Berkeley. Her dad,
John
, was a defensive tackle for coach
Don Coryell
at San Diego State. Coryell coached here at Farrington High in the early 1950s before moving on, eventually becoming head coach of the NFL's San Diego Chargers ...
Ben Wood
, who sold the Star-Bulletin in the streets of downtown Honolulu during World War II, writes of people, places and things in our Hawaii. E-mail him at
bwood@starbulletin.com