'Typical setup' preceded fatal blow
A witness tells jurors how a tourist was hit in a beach parking lot
"I thought I told you to get the f- out of here" were the last words a prospective University of Hawaii law school student heard before he was struck with an unprovoked punch that proved fatal, said Darrell Wong, deputy city prosecutor.
Less Schnabel Jr., 22, is on trial for manslaughter in Circuit Court for allegedly delivering a single punch to the side of Christopher Reuther's head May 22, 2007, in a Nanakuli Beach Park parking lot. Reuther was declared brain-dead two days later and taken off life support after another two days.
Reuther died of a brain hemorrhage. He never regained consciousness after the punch.
Schnabel is also on trial for unauthorized entry into a motor vehicle for allegedly taking a bag out of the trunk of Reuther's rental car.
His lawyer, Debra Loy, said in her opening statement to the jury yesterday that Reuther lunged at Schnabel with both hands raised.
"There is no false crack, there is no sucker punch. One is not blindsided in self-defense," she said.
And she said the state has no evidence that anything was taken from Reuther's car.
Reuther, 34, was in Hawaii for a visit and to attend a law school orientation. He arrived in the afternoon. That evening he went to Germaine's Luau at Campbell Industrial Park. At 11 p.m., he was at Nanakuli Beach Park.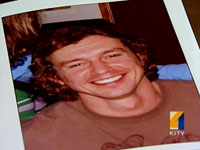 He died from a single punch on his first night in Hawaii, after a warm welcome Chris Reuther's death was treated with indifference.
Harold Kaeo, who was camping with six friends at Zablan Beach, testified that he noticed when Reuther arrived in his red Ford Mustang convertible rental car. He said Reuther looked out of place.
"It was unusual to see somebody like that in a place like that," Kaeo said, "A typical tourist wouldn't be there."
He said he and his friends invited Reuther to their tent and asked him whether he would like to smoke some marijuana. And after getting to know him, they invited Reuther to pitch his tent next to theirs.
Because they regarded parts of the beach park dangerous, Kaeo said, he and his friends told Reuther to stay near their tent. But he said Reuther did not listen.
Reuther left the tent and was headed to the parking lot wearing his camera when he encountered Schnabel, Kaeo said. He said Schnabel struck a pose, raising the middle finger of both hands, inviting Reuther to take his picture, which Reuther did.
But Kaeo sensed trouble - "because in my eyes, it looked like a typical setup," Kaeo said.
So he called out to Schnabel's companion and told her not do anything stupid and to leave Reuther alone.
Wong, the deputy city prosecutor, said Schnabel's companion, Nicole Ako, will testify that Reuther took another picture of Schnabel, which upset Schnabel. He said Ako also will testify that Schnabel told Reuther to leave the park but that Reuther did not leave quickly enough.
Loy, the defense attorney, said Ako was too high on crystal methamphetamine that night to remember what happened and too far away to have heard Schnabel's supposed last words to Reuther.
Kaeo said he watched as Reuther walked to the parking lot and opened the trunk of his car. He said Schnabel came up from behind Reuther, and when Reuther turned around, Schnabel hit him with a punch Kaeo called a "button shot." He said Reuther spun around, took a few steps and then fell to the ground.