Nimitz homeless ousted
Crews remove homeless from viaducts
STORY SUMMARY »
Up to 90 homeless people were displaced yesterday by a massive state cleanup under the Nimitz Highway viaducts.
State sheriffs described the area as a "criminal hub" for drugs, gambling and prostitution.
The cleanup, conducted by the Department of Transportation's Highways Division with the help of Oahu Community Correctional Center inmates, is expected to take a couple of weeks.
Living of the Word Ministries offered to assist the homeless with shelter.
---
FULL STORY »
State crews cleared out a makeshift village under the Nimitz Highway viaducts yesterday that one deputy sheriff described as a "criminal hub" for drugs and prostitution.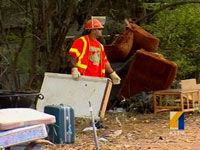 The H-1 Freeway airport viaduct has been a hub for a variety of criminal activity and now a movement to clean it up is underway.
Among those displaced was a man who had lived under the viaduct for about 14 years.
The cleanup, spanning 28 acres, netted 13 truckloads of trash, two trash bins, a truckload of tires with rims and a load of scrap metal. Also removed were mattresses, bicycles, propane tanks and car batteries.
More than two dozen state sheriffs assisted crew members from the state Department of Transportation and Oahu Community Correctional Center.
To accommodate some of the 90 homeless people displaced, the Living the Word Ministries opened its parking lot as a temporary shelter.
"We can possibly fit anywhere from 40 to probably 80, depending on how it's set up," said the Rev. Raymond Black III.
The massive cleanup, the second in two years, began at 7 a.m. on the strength of eviction notices issued Friday. Work is expected to be completed within a couple of weeks as items left behind are separated for recycling.
Two people were arrested on suspicion of drug-related offenses.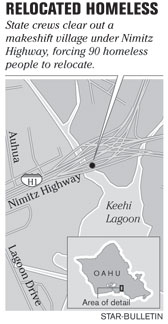 State sheriffs said things ran smoothly yesterday as crews cleared out makeshift rooms built with cardboard or pieces of wood, complete with door locks and stucco walls.
"It's pretty elaborate," said Deputy Sheriff Shane Souza.
Over the last four months, sheriffs arrested about 40 people in the area, primarily on offenses relating to crystal methamphetamine, or "ice," and on outstanding warrants. Some include arrests for copper theft that had allegedly occurred on military bases and for car theft.
Prostitution and gambling also allegedly were rampant.
"It's basically a criminal hub here," Souza said. "A lot of people here have jobs, but they have drug habits."
About 30 to 40 people, some in luxury cars, would visit the site daily to gamble, buy drugs or procure sex, officials said.
The encampment also raised safety issues for the occupants and for state crews that maintain the overpass, said Lt. Mike Oakland, of the state Sheriff Division, part of the Department of Public Safety.
Deputies informed the homeless of social service agencies that can offer support and shelter.
Jarod Wong, who has lived under the viaduct for about 2 1/2 years, said he and his girlfriend were able to gather some food and clothes before the cleanup began.
Wong, who has been jobless, said a friend recently found him a position as a mechanics supervisor. Still, he said, he is worried about what will happen to many of the homeless who he describes as his family.
More than a dozen members of Living the Word Ministries helped the homeless remove their belongings. The ministry, located at 2678 Kilihau St. and made up primarily of military families, has been helping the homeless since its inception two years ago.
They also have assisted with food distribution and collaborated with the Waikiki Health Center to provide medical support.
With the ministry's assistance, Hawaii Self Storage offered storage space for the homeless. Black said he hopes more people will step forward to help.
CORRECTION
Wednesday, July 2, 2008
Deputy Sheriff Shane Souza was part of the state team that cleared a makeshift village from under the Nimitz Highway and H-1 freeway viaducts Monday. His last name originally was misspelled as Souse in this article.