---
FAST FACTS HAWAII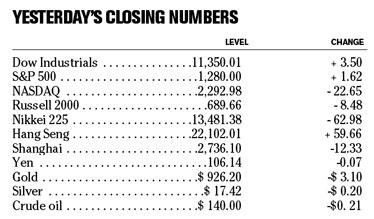 ---
HAWAII
Hawaiian added to Russell 3000
Hawaiian Holdings Inc.
, parent company of Hawaiian Airlines Inc., said yesterday it was added to the Russell 3000 Index.
The Russell 3000 Index measures the performance of the largest 3000 common stocks in the U.S.
"We believe our inclusion in this well-known index will help us bring Hawaiian's story to a wider audience of institutional investors, which will more closely align our market capitalization with the company's performance," Mark Dunkerley, president and CEO, said in a statement.
Consulting firm starts isle project
Alakai Consulting and Engineering
, a defense contractor incorporated in Hawaii, said yesterday it has begun work on a $300,000 research and development project in Honolulu and Kona, under contract with the Pacific International Center for High Technology Research, a nonprofit research organization based in Honolulu.
The project is designed to produce a spectrometer for an advanced explosive detection system to help protect troops in combat.
Alakai, which specializes in laser and electro-optic remote sensing systems, also has offices in Florida, Missouri and New Hampshire.
HR BioPetroleum names new CEO
HR BioPetroleum
, an isle renewable bioenergy company, said yesterday it has named Ed Shonsey as CEO and a member of its board.
He will implement an aggressive new corporate strategy which will complement HRBP's recent alliance with Royal Dutch Shell PLC.
Shonsey was most recently CEO of Diversa Corp., and has also held executive positions with Syngenta Seeds Inc., Novartis and Procter & Gamble Co.
NATION
Chrysler to close Missouri plant
DETROIT »
Chrysler LLC
said yesterday it will indefinitely close one Missouri plant and cut production at another due to slumping demand for pickup trucks and minivans.
Officials with the Auburn Hills-based automaker said in a conference call that it will shutter the St. Louis South plant, which makes minivans, effective Oct. 31. The St. Louis North plant, which makes full-size pickups, will be cut from two shifts to one effective Sept. 2.
Chrysler said the moves would affect 2,400 jobs. That includes 1,500 at the minivan plant and another 900 at the pickup truck plant, which both are in Fenton, a St. Louis suburb.
BRIEF CASE
FAKE LUXURY:
A court ordered eBay yesterday to pay $61 million in damages to the French luxury goods company LVMH in the latest round in a legal battle over the sale of counterfeit goods on the Internet.
---
BUSINESS PULSE