HOW BEER IS MADE
---
1 barrel = 31 gallons = 2 kegs = 13.78 cases of 12-oz. bottles
---
Basics of brewing

MILLING: Barley malt is weighed and crushed for starch conversion.

MASHING:
Barley is mixed with hot water, extracting fermentable sugars.

LAUTERING:
Sweet, nutrient-filled wort is separated from grain husks.

BOILING:
Liquid is boiled for 90 minutes, creating sugars; hops are added for bitter flavor and aroma.

WHIRLPOOL:
The whirlpool clarifies the solution by separating out protein and hops particles.

HEAT EXCHANGE:
Liquid is rapidly cooled to fermentation temperature.

FERMENTING AND CONDITIONING:
Yeast is added. The yeast converts the sugar solution into alcohol and carbon dioxide gas. After fermentation the beer is chilled and stored for additional clarification, flavor maturation and long-term stability.

BRIGHT BEER:
Beer is transferred to special tanks for additional maturation.

PACKAGING: Beer is filtered, if desired. The beer is bottled or canned, pumped into kegs or used immediately in a brewpub.
MULTIMEDIA
The beer-making process at Honolulu's Brew Moon
A tour of Keoki Brewing Co.'s Lihue facilities
George O'Hanlon of the Liquor Collection gives some flavor to basic beer terminology
TYPES OF BEER

Ales:
They are made at warm temperature for two weeks. The result is sharp and fruity.

Lagers:
They are made at cool temperature for six weeks. The result is smooth and mild in flavor.
INSIDE A COMMERCIAL MICROBREWERY
Larger breweries use the same process as people making home-brewed beer, but their sophisticated equipment controls hundreds of variables so every batch of beer tastes the same.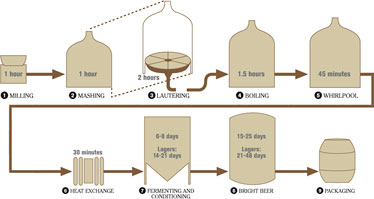 Sources: Star-Bulletin, Kona Brewing Co., Carolina Brewing Co., Beer Advocate, Big Rock Brewery, Brick Store Pub, Corvallis Brewing Supply, Euromonitor International, How Stuff Works, Sun Sentinel