| | |
| --- | --- |
| | What the Heck? |
---
Piping in summer, Irish style
Who knew that there were Irish holidays besides St. Patrick's Day?
Apparently, Midsummer -- to astronomers, the summer solstice; to the devout, St. John's Day -- is an Irish holiday.
Historian Bob Dye threw a Midsummer Party last weekend at, where else, Murphy's Bar & Grill.
Among the guests were both Irish (Campbell Estate's Dave Heenan, KITV's Denby Fawcett, MidWeek's Dan Boylan) and honorary Irish (University Health Alliance's Max Botticelli, Group 70's Norman Hong).
There was Irish music from the Doolin' Rakes, corned beef and cabbage, plenty of Guinness -- and one medieval tradition, the giving of herbs. The traditional herb would be St. John's wort. But since Dye could find no St. John's wort except in pill form, he gave guests sprigs of oregano instead.
The guest of honor was Ciara McCarthy, of Kinsale, Ireland. McCarthy, who's studying urban planning and sustainable development at University College Cork, had just finished an internship at Honolulu's Group 70.
McCarthy plays the bagpipes with Tralee County Kerry Band. She played several numbers, pausing in between to refresh herself with vodka and lemonade.
I asked her if people really did throw Midsummer Parties in Ireland. "It's more a children's festival, to celebrate school's being out," she said.
So it's not a large group of adults standing around in a pub drinking? "Oh," she said, "we do that anyway."
Black Poet, Red Scare
Kathryn Waddell Takara, who pioneered Black Studies at the University of Hawaii, is angry.
Takara has written extensively about a nearly forgotten historical figure, Frank Marshall Davis, a black poet, newspaper columnist and labor activist, who moved to the islands in 1948.
In the '70s, a by-then-elderly Davis was a friend of Barack Obama's grandfather and would proffer advice to a young Barry, as he was called then.
Political bloggers Cliff Kincaid and Trevor Loudon -- so right-wing they think even Fox News is too soft on Barack Obama -- have used Takara's work to insist that Davis was a communist, and not just a communist, but a hard-line Soviet agent -- and that his advice turned Obama himself into a communist mole, prepared to undermine democracy.
"Frank Davis loved democracy," says Takara. "But he was a fierce critic of racism and injustice, and in those years, anyone who was that controversial got labeled a communist."
Takara says the bloggers are twisting her research. "Besides," she adds, "I thought calling your political opponents communists went out with Richard Nixon."
Can't Get a Date
You never know what the endlessly creative Lee Tonouchi, "Da Pidgin Guerrilla," is likely to do next.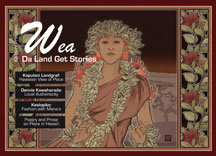 His latest literary magazine out of Kapiolani Community College looks just like a calendar -- except you can't use it to figure out what date it is, because it has poems, stories and essays instead of days and months.
It's called "Wea," which, if you know Tonouchi, means "Where."
Tonouchi was shocked to find most of his students' favorite places were in cyberspace, like MySpace. So he put together all these meditations on Hawaiian places.
But why a calendar, Lee?
"It's perfect for, brah," he explains. "It's one critical commentary. Hawaii's mo' than just pretty tourist pictures on a calendar, we get mo' stories about the land."
The magazine/calendar/critical commentary is available for free at KCC.
Hanapepe in the Raw
If you are ever in the small Kauai town of Hanapepe, you might stop by the Arius Hopman Gallery.
Six years ago, Hopman, a painter and watercolorist, bought a small digital camera. Why? To take pictures of his paintings. He turned the lens on Kauai's landscape -- and became one of Hawaii's best, though unheralded, photographers.
Thursday, he's rented a second Hanapepe gallery to open a photo exhibit of nudes in natural settings. "It's going to shock some people," he says. "It's my version of Fourth of July fireworks."
In addition, Hopman notes, Kauai just saw the preview of "Taylor Camp 1969-1977," John Wehrheim's documentary on the short-lived, clothing-optional hippie enclave on Kauai's North Shore.
"Tell everyone we are keeping the torch of freedom lit over here on Kauai," says Hopman.
Should you feel left out, the Taylor Camp film, at least, comes to the Hawaii Theatre on July 13. The theater's Web site warns: "This documentary contains nudity."
Oh dear.
Let's Do the Time Warp Again
It's the kind of show where at intermission, there may well be a guy in a short skirt and fishnet hose standing next to you at the urinals.
But what do you expect from "Rocky Horror Picture Show," the stage version, which culminates the season at Manoa Valley Theatre?
It's not like the '70s, when undergraduates in costume would jump onto the stage at UH's Physical Science Auditorium and do "The Time Warp" in front of the movie screen, flouting social and sexual norms, not to mention appropriate Theatre behavior.
In the 21st century, it's more like controlled disobedience. No outside props allowed -- so no squirt guns during the rain sequence. The Theatre says the rule is a safety issue, but it sells you a bag of audience-participation props for $5, including a roll of toilet paper to throw during Dr. Scott's entrance, complete with the logo of ResortQuest, a corporate sponsor.
But by the second act, it all works perfectly, the audience yelling ad-libs on cue, the performances by the ragged bunch of misfits and transvestites reaching a sweet climax by dragging audience members on stage to do a final Time Warp.
Tickets for selected performances are still available. You may wish to refresh your memory of the Time Warp steps before going.