Isle pages
"Blazing Stars and Shark Eyes"
By David Kawika Eyre, illustrated by Imaikalani Kalahele
Kamehameha Publishing, 30 pages, $14.95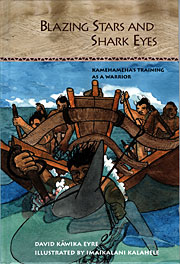 The third in a series of children's books on the life of King Kamehameha, "Blazing Stars" begins with the boy's warrior training with the chief Kekuhaupi'o. He grows strong and is sent on his first quest: to battle a shark in the ocean and eat its eye - the shark's eye that Kamehameha's mother craved before his birth.
The power of these books is in their vivid depiction of ancient ways, in this case the formalities of stalking a shark, brought to life in striking illustrations.
"Phantom Stallion Wild Horse Island 6: Sea Shadow"
By Terri Farley
HarperTrophy, 200 pages, $4.99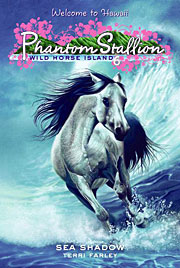 This series for young readers launched just last year and is already up to Book 6, making the author one of the speediest in the business.
"Phantom Stallion" follows the Big Island adventures of the intrepid Darby Kealoha Carter and her beloved horse, Hoku. This time, a tsunami strikes, endangering the mustangs of Wild Horse Island.
A mystery regarding missing Hawaiian artifacts is woven into this tale of rescue.