Airport adds cell phone waiting lot
The state Transportation Department has opened a second waiting area for motorists picking up passengers on arriving flights at Honolulu Airport.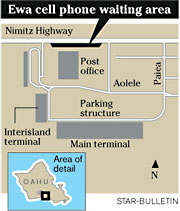 The "Ewa cell phone waiting area" gives motorists another place to park for free while waiting for a cell phone call from arriving passengers, transportation officials said yesterday.
The new site is at the intersection of Nimitz Highway and Aolele Street on Service Road A near the airport post office.
The Diamond Head cell phone waiting lot, which opened in November, is on Aolele Street between Delta Airlines and United Airlines cargo facilities.
The waiting areas are open 5 a.m. to 10 p.m. daily.
Transportation officials say the waiting areas help reduce traffic congestion fronting the baggage claim area, making it easier for those picking up passengers by eliminating the need to circle around while waiting for passengers.
Drivers can wait in the free lots until family and friends have picked up their luggage and are waiting outside the baggage claim area.