Ex-coach pleads guilty to assault
A plea deal results in lesser charges for Darin Yoshinaka
A former high school assistant volleyball coach pleaded guilty yesterday in state court to charges that he had sex with a 13-year-old girl.
Darin Hideki Yoshinaka, 28, pleaded guilty to two counts of second-degree sexual assault and seven counts of third-degree sexual assault.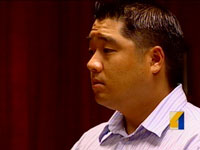 Darin Yoshinaga admits to two sexual encounters with a 13 year old girl.
He was facing two counts of first-degree sexual assault but, in a plea agreement with the state, pleaded guilty to second-degree sexual assault instead.
First-degree sexual assault is a Class A felony punishable by up to 20 years in prison. Second-degree sexual assault is a Class B felony punishable by up to 10 years in prison.
As part of the plea agreement, Yoshinaka will receive five years of probation. However, both sides will be free to argue whether he also deserves up to 18 months in prison when Circuit Judge Richard Pollack sentences him on Aug. 29. He remains free on $50,000 bond.
Yoshinaka pleaded guilty to the charges because he is guilty and it was the right thing to do, said his lawyer, David Hayakawa.
"When an individual has done something wrong, all he can do is stand up and take responsibility. And that's what he's done," Hayakawa said.
The state entered the plea agreement in full consultation with the victim and her family, said Scott Bell, deputy city prosecutor.
"One of the primary objectives of the prosecution was to spare the victim from the rigors of a public trial," he said.
Yoshinaka pleaded guilty to having sex and sexual contact with the girl on Nov. 3 in her home and having sexual contact with her on Jan. 2. It is unlawful to have sex with anyone under 14 years old, under state law.
Yoshinaka was an assistant volleyball coach for the Maryknoll School girls varsity team for the 2007 season. His contract expired in October at the end of the season.