Fire safety on Fourth stressed
Emergency officials worry more about brush fires with this year and last year being drier than normal
STORY SUMMARY »
|
READ THE FULL STORY
With two years of drier-than-normal weather, Oahu is primed for a busy brush fire season, and firefighters are asking the public to help make it a safe Fourth of July and summer.
Fireworks go on sale tomorrow, and emergency responders hope to continue last year's relatively safe Independence Day, with no serious fireworks-related injuries.
But firefighters also hope to not see a repeat of last year's August wildfire, which burned about 7,000 acres.
"As we approach the July Fourth weekend, rising temperatures, lower humidity and careless use of fireworks could lead to unnecessary wildfires," said Honolulu Fire Chief Kenneth Silva.
"Dry conditions are likely to continue through the summer. So we're working with our partners to prepare for wildfires, and we're asking for the public's help in preventing fires from starting."
GENE PARK
FULL STORY »
With last year's six-day fight against a Waialua brush fire still burned into their memories, city and federal firefighters are pleading with the public to be mindful of fire safety this Independence Day and summer.
FIREWORKS LAW
It is illegal for any resident to:

» Throw ignited fireworks at a person or animal.

» Throw ignited fireworks from above the first floor of any building.

» Throw ignited fireworks from, at or into a vehicle.

» Set off fireworks on public ways or in parks, cane fields or places of worship.

» Set off fireworks at any public beach, forest, wildlife preserve or school area.

» Set off fireworks within 1,000 feet of any hospital, health care or senior-care facilities, or zoos.

» Set off fireworks within 500 feet of any hotel.

» Sell or give fireworks to minors.

» Possess or use aerial fireworks unless the fire chief issues a display permit.

» Transport fireworks in carry-on or checked luggage, airline cargo or mail.

» Remove or extract pyrotechnic contents.
This year will be drier than usual, just like last year.
"This past wet season during the winter, a lot of the Leeward areas were about 60 percent drier than normal," said Ian Morrison, incident meteorologist for the National Weather Service, "and some of the Windward areas were 70 percent to 80 percent drier than normal."
Yesterday, several emergency responders, including the city and federal fire departments, held a news conference yesterday to underscore that message.
"Last year was also drier than normal," Morrison said. "So all of our vegetation is even drier now, so the potential for fires is higher this year than it has been in the past."
Honolulu firefighters also stressed fireworks safety with the Fourth of July on Friday. Last year there were 60 fires linked to fireworks on Independence Day, down from 78 in 2006.
There were also no serious injuries that stemmed from fireworks-related incidents last year, said Emergency Services Department spokesman Bryan Cheplic.
"We're hoping that the trend repeats itself this year," Cheplic said.
Permits for fireworks go on sale tomorrow through 8 p.m. Friday, and the legal period to use fireworks is 1 to 9 p.m. on the holiday.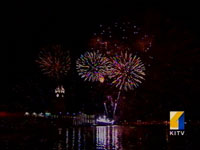 Honolulu Fire Department is increasing personnel in anticipation of a busy holiday weekend.
The joint news conference stemmed from increased teamwork that resulted from the Waialua wild-land fire in August, which took six days to be contained and controlled.
"What we saw is that by doing things upfront, especially getting contact numbers and knowing what resources are located where, it'll improve our ability to do our job in a timely manner," said Honolulu Fire Chief Kenneth Silva. "What we do in the first 10 minutes dictates what we do in the next two hours, four hours, six hours."
The Waialua fire consumed about 7,000 acres, including 98 percent of Oahu's native yellow hibiscus flowers (the official state flower) on Oahu, said Michelle Mansker, chief of the U.S. Army's Natural Resource Section.
The Army, which spends more than $11 million protecting endangered plant species in Hawaii, has begun growing seedlings to replace the lost flowers in the Makua Valley, Waialua and Kealia areas.
The Army maintains a collection of 24,000 seeds from 20 different hibiscus plants from Makua Valley. The seeds were stored for four years, and should be enough to restore the population.
"We put plants into the ground during the wet season," Mansker said. "A lot of people don't realize that the Army does manage over a hundred endangered species on and off site. It's a big effort."
FIREWORKS SALES
Fireworks may be sold starting Sunday until 8 p.m. July 4. They can be set off, ignited or discharged only from 1 to 9 p.m. on Independence Day. A permit is required to buy consumer firecrackers; it costs $25 at a satellite city hall. Multiple permits may be purchased.
Cases of fireworks imported
2008 (to date)
» Firecrackers: 285
» Novelties: 18,093
2007
» Firecrackers: 902
» Novelties: 26,563
2006
» Firecrackers: 1,142
» Novelties: 26,118
2005
» Firecrackers: 555
» Novelties: 29,411
2004
» Firecrackers: 2,525
» Novelties: 33,504
2003
» Firecrackers: 495
» Novelties: 13,498
Permits issued
»
2007:
144
» 2006: 229
» 2005: 1,080
(a few individuals purchased more than 100 permits each)
» 2004: 300
» 2003: 179
Source: Honolulu Fire Department