---
FAST FACTS HAWAII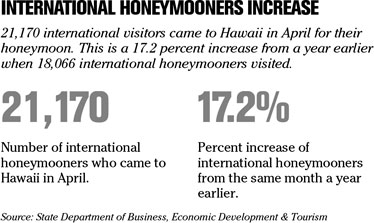 ---
AT THE PUMP
Gas prices hit isle record again
Hawaii's gas prices edged up again this week, hitting a record average of $4.42 for unleaded, according to AAA. That is 34 cents higher than a month ago, $1 higher than last year and 8.7 percent more than the national average.
In Hilo, the average yesterday was $4.46, up 40 cents from last month and $1.01 from a year ago. Honolulu's average price was $4.33, up 36 cents from last month and $1.02 from last year, and Wailuku's average of $4.63 was up 23 cents from last month and 87 cents from a year ago.
"The pricing situation remains very volatile," AAA Hawaii Regional Manager Richard Velazquez said in a statement. "Some gas stations on the mainland are starting to offer a discount per gallon for cash purchases, instead of a credit card purchase, but it remains to be seen if merchants in Hawaii will offer this discount."
Prices are derived from fleet vehicle credit card transactions at 85,000 stations around the country, including Hawaii. Prices are combined averages of the last card swipe of the previous day.
---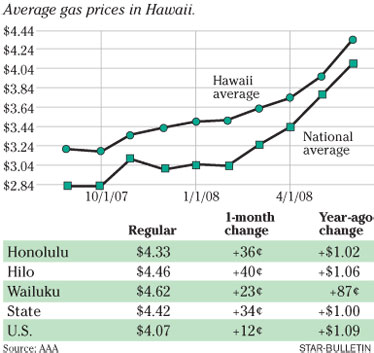 ---
HAWAII
First Hawaiian awards $25,000
First Hawaiian Bank Foundation, the charitable arm of
First Hawaiian Bank
has given a grant of $25,000 to the Mililani Presbyterian Church.
The funds will be used to support construction and renovation of the church's preschool, the bank said yesterday.
Construction plans include a 2,520 square-foot preschool and daycare wing, a kitchen renovation and restroom upgrades.
Honolulu's 2nd Cash Plus opens
Cash Plus
, which handles check cashing, payday advances, wire transfers and money orders, has opened its second Honolulu location.
The new location opened last month at 1111-A Fort Street Mall. The store will also offer wireless and high speed Internet services from Mobi PCS and Clearwire.
The original Cash Plus store is located at 1330 Middle St.
NATION
Toyota could overtake GM sales
DETROIT »
Toyota Motor Corp.
could overtake
General Motors Corp.
in monthly U.S. sales for the first time in June, but the victory could be a hollow one as the weak economy continues to pummel the auto industry and even Toyota struggles to meet U.S. consumers' sudden and insatiable demand for hybrid cars.
Analysts are predicting another double-digit dip in June sales, in large part because buyers are shunning big vehicles. Automakers report sales figures Tuesday.
Jesse Toprak, chief industry analyst for the auto information site Edmunds.com, predicts sales will be down 13 percent in June to 1.26 million, or an annualized rate of 14.9 million. Toprak said GM could see an uptick in the last few weeks because of a zero-percent financing deal that began Tuesday, but it won't be enough to stem the automaker's losses in trucks and sport utility vehicles.
Northwest pilot leaders OK deal
BLOOMINGTON, Minn. » Leaders in the pilot union at
Northwest Airlines Corp.
approved a tentative joint contract with
Delta Air Lines Inc.
to take effect after the two airlines combine.
The next step is a vote by rank-and-file pilots at both airlines.
The Northwest branch of the Air Line Pilots Association says its Master Executive Council voted unanimously to send the proposed contract to pilots for a vote.
They still need to work out a merged seniority list, and that can be the toughest part of combining two pilot groups. They have agreed on a process for doing the seniority list, and negotiations are expected to start later this summer.
---
BUSINESS PULSE