Seeing Hokus in person yields insight for future
AFTER YEARS of watching the Na Hoku Hanohano Awards on television, I got to spend the majority of my night on June 17 just steps from the winner's circle at the Hawaii Convention Center.
While I was more than a little busy filming interviews with Hoku winners like Hoku Zuttermeister, John Cruz, Maunalua and Weldon Kekauoha, my location allowed me to watch KHNL's Stephanie Lum and Walter Makaula in action. It was also entertaining to listen to KINE-FM's Randy Hudnall and KCCN-FM's Lina Girl as they visited with winners live on the radio.
Natural Vibrations took home the Hoku for best reggae album once again, and I was impressed with the humility they displayed during interviews. They even took the time to circle up and call guitarist Wayne Enos, who was stuck at home and couldn't attend.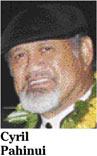 Other highlights: Cyril Pahinui looked genuinely surprised to win the Hoku for island music album of the year. After giving a moving tribute to his parents, he even shared ambitious plans to release a series of hula albums - one for each island in Hawaii.
"I don't wanna rush," he said. "I gotta find the kaona."
Amy Hanaialii Gilliom also has an album in the works. She recorded with the Matt Catingub Orchestra earlier this year and plans to release in Japan before making it available here.
And even though more than half of the ballroom had left before Mighty J got the opportunity to play, their performance was one of the best that night. Luckily, things had slowed down enough to give me the chance to enjoy it ...
A CHANCE encounter last week uncovered a disappointing (to some) tidbit of information.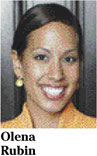 I ran into KHON's Olena Rubin at Kincaid's, where she was enjoying a few pau hana cocktails with Crimestoppers' Sgt. Kim Buffett and a couple of friends. When I stopped by to drop off a mojito, Buffett broke the news: Rubin is engaged!
Flashing a diamond ring and a big grin, Rubin confirmed what Buffett told me. Daniel Heu popped the question on June 9, but the happy couple haven't yet decided on a date ...
IT'S AN MTV weekend in Honolulu, with stars from two popular shows making appearances.
After a concert at the Blaisdell on Friday with Danity Kane and Day26, "Making the Band 4" solo artist Donnie Klang will serve as guest host at "The Playground" inside the W Honolulu. I'm told there's a good chance that others from the show will be in the building as well.
On Saturday, all six members of Kaba Modern will party at Chai's Island Bistro after teaching dance workshops at UH-Manoa with Ben Chung from the Jabawockeez. The third-place finishers from the first season of "America's Best Dance Crew" will also perform on Sunday at Castle High School. Call 486-3003 for tickets ...
WEEKEND PICKS: DJ Eskae celebrates two years of his monthly "Soul Clap" party at thirtyninehotel on Friday. The fun starts at 9 p.m., but get there early to take part in "5 to 9 at thirtynine," Eskae's pau hana cocktail party featuring specialty drinks by mixologist Christian Self ... Local rockers Missing Dave say goodbye to lead singer Daena Dempsey at Kimmie's Cantina (formerly Red Lion University) on Friday with help from Pimpbot, Love Chile and Grand Theft Audio. Dempsey announced her departure after receiving news that her husband would be stationed on the mainland ... GenuineHI's Jake Miyasato is moving to Seattle for a job, but he'll bring a taste of Washington State to Chinatown before he leaves. Say aloha on Saturday, when he hosts the Blue Scholars at NextDoor ...
COMING UP: Seven local promoters have teamed up for a return to Ciao Mein. Thursday's "Independence Day at the Hyatt" will double as a four-year anniversary celebration of party collaboration between Evol Entity, Moguls Entertainment and Racesauce ... Get a taste of "the world's first sparkling liqueur" at Fashion45 on Thursday. Hot Lava Entertainment and MyEvolution host the pre-launch for Nuvo, a vodka infused with sparkling wine and fruit nectar. Call 429-0715 for VIP access ... The "Hotel Street Social Club" presents a preview screening of "Stranger Than Fiction," a new surf flick by director Taylor Steele. Doors open at 7:30 p.m. Thursday, with tons of giveaways and an open bar before 10 p.m. ...