---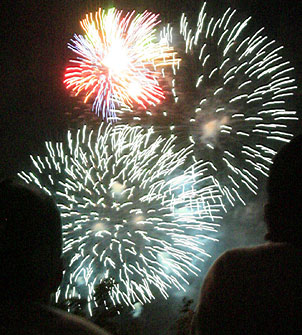 Pearl Harbor survivors ring commemoration bell
Pearl Harbor survivors are joining a national effort, "Let Freedom Ring," at the USS Arizona Memorial Visitor Center. The survivors will ring the bell 13 times, once for each of the original states at 8 a.m. on July 4. The event coincides with the ringing of 10,000 bells nationwide, including the Liberty Bell. The historic bell at Pearl Harbor was one of the two bells removed from the USS Arizona and preserved by the National Park Service.
After the bell-ringing ceremony, survivors will speak of their personal experiences of World War II and the bombing of Pearl Harbor. Attendees may also visit a license plate exhibit that displays special-edition Pearl Harbor Survivor license plates from around the country.
For more information, call (800) 330-1776 or visit www.let-freedom-ring.org.
ENTERTAINMENT
'Moondance Alexander' star to be at Waikiki screening
Actress Kay Panabaker will appear at the screening of "Moondance Alexander" from 5:30 to 9 p.m. on Sunday at the Sheraton Waikiki. It's part of the KIDS FIRST! Film Festival, and on this occasion, attendees can enjoy a barbecue, wear their swimsuits and watch the movie from the pool.
"Moondance Alexander" stars Panabaker as a teen facing another boring summer with her mother - until she discovers Checkers, a lost pony. In her efforts to return Checkers to his rightful owner, Moondance (yes, that's her name) decides he is a champion jumper, and becomes determined to guide him to success.
Panabaker, 18, appeared in the screen version of "Nancy Drew," and as Nikki Westerly on the television drama "Summerland." She's also guest-starred on Disney Channel movies and in series such as "Read It and Weep," "Phil of the Future" and "The Suite Life of Zack & Cody." Currently, she plays the daughter of Marg Helgenberger's character on "CSI: Crime Scene Investigation."
Parents will be interested to know that Panabaker has juggled her work schedule around impressive academic pursuits, graduating from high school at age 13 and finishing studies at the University of California-Los Angeles by 17.
HOME & GARDEN
Boutique for pets marks first year
The Pet Spot shop at Ward Warehouse celebrates its first birthday with a couple of special events tomorrow.
First up will be the "Doggie Decadence" fashion show, where canines can compete in two weight categories (under 70 pounds and over 70 pounds) for cutest outfit, judged by audience applause.
After that it's chow time, as dogs will do battle to see who can wolf down food the fastest in the "Is Your Dog a Pig?" contest.
Winners of each of the four contests will receive a one-year supply of dog food courtesy of the store. There will also be prize giveaways, including a purebred puppy.
» Place: The Pet Spot, Ward Warehouse (also the stage area)
» Time: 11 a.m. to 3 p.m.
» Admission: Free (dog contests' registration at the store)
» Call: 591-1990
Hawaiian music will fill garden
The Foster Gardens Twilight concert series continues Thursday with entertainment by KFC - Hawaiian music by Keith Haugen, Frank Uyehara and Carmen Haugen.
Hours are 4:30 to 7:15 p.m., with the concert from 5:45 to 6:30 p.m.
There will be several activities for the keiki before the concert begins.
Twilight Concerts are being held every Thursday through July 31, except July 10.
Call 522-7064.
Foster lau hala classes canceled
Lau hala weaving classes previously scheduled at Foster Botanical Gardens for July and August have been canceled because the instructor is ill.
Call 522-7064.