| | |
| --- | --- |
| | Barfly |
---
Drinking the heat away
Four island bartenders share their ideas on the best way to keep cool this summer
WITH THE Fourth of July weekend right around the corner, summertime is in full swing here in Hawaii. And what better way to enjoy the season than lounging outside with an ice-cold cocktail?
In an effort to expand your drinking horizons and provide a little inspiration, I spent time last week with four talented bartenders from various establishments around Honolulu. Drawing upon nearly 50 years of experience between them, the four came up with recipes that will tantalize the tongue and quench your thirst with the added punch of quality liquor.
"FOR SURE, there's a definite summertime mentality," says Better Brands spirits specialist/mixologist Joey Gottesman. "Ginger is really hot right now ... it's refreshing, the taste is good and it's food-friendly."
He explains this while standing outside E&O Trading Co., where Gottesman is also known as "Keeper of the Spirits." Nearly all the cocktails on the menu are his creations, and the restaurant's lounge is packed with customers enjoying drinks in an open-air atmosphere as we chat.
Mojitos are another favorite, Gottesman adds, despite the played-out factor the cocktail suffers from (not unlike an Apple-tini or Cosmopolitan in years past). But a good bartender always has a few tricks up his sleeve, and Gottesman is no different.
Before sharing the recipe for his "Ocean Vodka Spiced Chi Chi-Tini," he mixes a couple of Blueberry Caipiroskas, which are basically mojitos made with vodka instead of rum. He tries to explain the subtle differences between the two, but I'm too busy guzzling the tasty libation and trying to keep mashed mint leaves out of my teeth to pay attention.
AFTER VISITING with Gottesman, I make my way down the block to Kincaid's at Ward Centre, where bartender Keoni Lee presides on Friday nights.
Like Gottesman, Lee is a strong supporter of the mojito. Kincaid's offers eight different flavors, thanks to various syrups that bartenders add during the mixing process. Passion fruit and mango are the most popular, Lee says, although a traditional mojito remains the all-time favorite here.
"When I think about mojitos, I think about sitting by the pool ... doing it real Miami-style," says Lee. "It's refreshing and just goes down easy, (and) that's what you're looking for with a summertime drink."
After sampling a traditional Kincaid's mojito, Lee shares two more variations that are gaining in popularity. First, he makes one infused with green tea and ginger, following it with a version that uses Captain Morgan's Spiced Rum (his personal favorite).
The spiced mojito isn't bad, but drinking it reminds me of the main drawback of ordering these drinks. There's a lot of sugar in them, and drinking too many won't just get you sloppy - you'll get the jitters, too!
CUTTING OUT the sugar is one of Christian Self's goals at thirtyninehotel.
As bar manager at the Chinatown hot spot, he's tasked with developing a cocktail menu that satisfies his regulars and attracts new customers amid stiff competition. Self has added more than a dozen recipes since joining thirtyninehotel last September; he expects that number to top 30 within the next few weeks.
When I ask him to share his ideal summertime drink, Self responds with his version of a classic cocktail that doesn't need sugar to achieve the desired level of sweetness.
"The Hemingway Daiquiri (is) a nice, balanced, light, refreshing cocktail that doesn't taste overly strong," he says. "There's alcohol, but there are no residual sugars, so it's a sweet drink without a ton of sugar ... it's actually kind of healthy.
"During the summertime, you don't want to be drinking heavy drinks ... this one is simple; there's no need to overcomplicate things."
RUMFIRE'S Kimi Fukuzono is another bartender who believes simplicity makes for a better drink. Although her Lychee Daiquiri is blended, all it takes is four quick pours to establish the base from which the drink is made.
"I like blended drinks during the summertime and I love lychee, so I kind of just put the two together," says Fukuzono, who developed the recipe last week on her day off. "I put in some vanilla Cruzan, which is really light and goes well with the lychee."
Almost surprisingly, she's right - the Cruzan helps balance the slightly artificial flavor of the lychee liqueur, and you can add fresh fruit to enhance the taste. Of all four cocktails, it trails only to Self's Hemingway Daiquiri in terms of flavor and drinkability.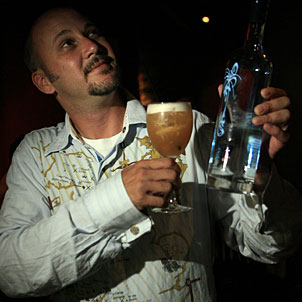 JOEY GOTTESMAN
» Spirits Specialist/Mixologist, Better Brands
» Hometown: Honolulu
» Years bartending: 22
Ocean Vodka Spiced Chi Chi-Tini
1 ounce Ocean vodka
2 ounces fresh cubed pineapple
1/2 teaspoon sugar
1/2 teaspoon brown sugar
dash cinnamon
1 ounce fresh pineapple juice
In a mixing glass, mash cubed pineapple to release juice and break down fruit. Add remaining ingredients. Cover, then shake. Strain into a cocktail glass, or empty entire contents into a fountain glass and top with lemon-lime soda.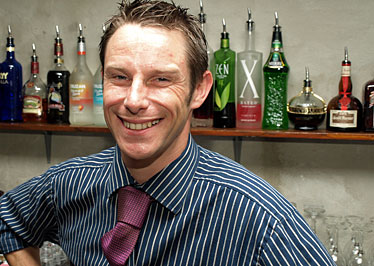 CHRISTIAN SELF
» Bar Manager, thirtyninehotel
» Hometown: Liverpool, England
» Years bartending: 10
Hemingway Daiquiri
1 1/2 ounce Cruzan Mango Rum
1/4 ounce Maraschino liqueur
1/2 lime
wedge of Ruby Red grapefruit
In a mixing glass, extract juice from the lime using a fruit press. Squeeze juice from grapefruit wedge and then add liquor. Cover and shake, then strain into a cocktail glass. Garnish with grapefruit wedge.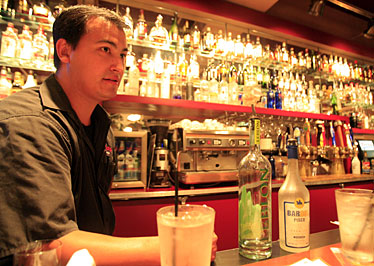 KEONI LEE
» Bartender, Kincaid's
» Hometown: Mililani
» Years bartending: 5
Mojito
2 ounces light rum
2 teaspoons sugar
2 to 4 mint sprigs
1 lime
Club soda
In a highball glass, mash half the mint sprigs with sugar and the juice of half the lime. Fill glass with ice (preferably crushed), then add rum and stir. Top with club soda and stir again. Cut the remaining half of the lime into wedges; garnish the drink with wedges and remaining mint.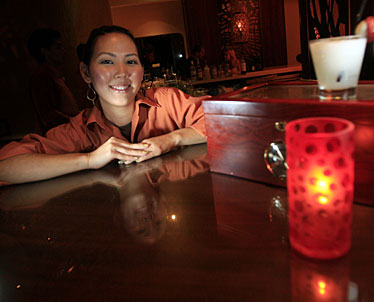 KIMI FUKUZONO
» Bartender, RumFire
» Hometown: Halawa
» Years bartending: 10
Lychee Daiquiri
1 ounce SOHO Lychee Liqueur
1/2 ounce Cruzan Vanilla Rum
2 ounces sweet and sour
1/4 ounce lemon-lime soda
Add all ingredients in a blender with crushed ice and blend to a margarita-like consistency. Pour into rocks glass and garnish with fresh lychee.



Barfly appears every last Friday of the month in HiLife. Reach
Jason Genegabus
at
jason@starbulletin.com
with suggestions of neighborhood bars to visit.