---
FAST FACTS HAWAII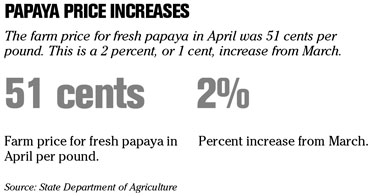 ---
Right on target
Kahu Larry Ursua presided over Target's ground-breaking ceremony yesterday on its 160,000-square-foot store at Kona Commons, a new regional shopping center under development by the Queen Liliuokalani Trust and MK Kona Commons. Two other Target stores -- in Kapolei and Salt Lake on Oahu -- already are under construction and expected to open in March 2009. The Kona store is expected to open in July 2009. Inset, the keiki of Queen Liliuokalani Children's Center performed an oli.
HAWAII
Hawaiian stops delivery of 1 jet
Hawaiian Airlines
has decided not to add another Boeing 767 to its fleet this year as it previously planned under a letter of intent signed on April 18.
The company, which still intends to acquire four additional Boeing 717-200 aircraft in the fall to support its expanded interisland operations, said complications arose in conforming the 767 to Hawaiian's operating certificate, which would have delayed the wide-body plane's entry into service until the fourth quarter.
"I know many supporters of Hawaiian Airlines' growth will be disappointed by this decision, however the prospect of not being able to use this aircraft until very late this year against the backdrop of the recent run-up in fuel prices made this a fairly straight-forward decision," Hawaiian President and Chief Executive Mark Dunkerley said.
Dunkerley said Hawaiian is still moving forward with its commitment to take delivery of a new, more efficient fleet of long-haul Airbus aircraft starting in 2012.
A&B declares dividend
Alexander & Baldwin Inc.
said yesterday it was maintaining its quarterly dividend at 31.5 cents a share. It will be payable on Sept. 4 to shareholders of record as of the close of business on Aug. 7. The payout equates to an annualized yield of 2.8 percent.
Union candidate seeks exemption
Oliver Kupau III, one of two candidates running for leadership of the Laborers' International Union Local 368, has filed for an exemption from disqualification in U.S. District Court.
Kupau was considered ineligible due to his past criminal conviction of money laundering, according to a letter from the district director of the U.S. Department of Labor.
In 2002, Kupau was convicted of money laundering in the context of an illegal gambling business that involved cockfighting. He was actively employed as a business representative for Local 368 when he pled guilty in the case.
In his petition, filed June 23, Kupau says he became the business manager after being nominated and voted into office. He also contends that under the law that only convictions for certain criminal offenses prohibit individuals from holding various union positions.
Kupau argues that his conviction is not one of those criminal offenses that would render him disqualified to run for union office. Also, he said he would have been barred from holding union office for five years, which expired on May 5 of this year.
NATION
30-year rates hit 9-month high
WASHINGTON » Rates on 30-year mortgages rose again this week, climbing to the highest level in more than nine months, reflecting more concerns about how the Federal Reserve will respond to higher inflation pressures.
Freddie Mac
, the mortgage company, reported yesterday that 30-year fixed-rate mortgages averaged 6.45 percent this week. That was up from 6.42 percent last week. It was the highest level for 30-year mortgages since they averaged 6.46 percent for the week of Sept. 9.
Rates on 15-year fixed-rate mortgages rose to 6.04 percent, up from 6.02 percent last week. The five-year adjustable-rate mortgage rose to 5.99 percent, up from 5.89 percent last week. The rate on a one-year adjustable-rate mortgage rose to 5.27 percent, compared to 5.19 percent last week.
---
BUSINESS PULSE