McDonald's gets tool for heart safety
Seventy-six-year-old Edwin Kondo joined his friends for coffee at the Aina Haina McDonald's on Oct. 8, coming from a morning walk around Kahala Mall.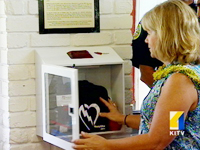 Aina Haina McDonalds is the first Hawaii McDonalds to have an automated external defibrillator and had it installed after one of its regular customers had a heart attack.
Suddenly, he went into cardiac arrest and collapsed in the dining area. A woman performed cardiopulmonary resuscitation while someone called 911. Wailupe firefighters responded quickly from their nearby station, performing CPR and using a defibrillator to restart Kondo's heart.
"I just came in to drink my coffee," said Kondo, who later underwent heart bypass surgery at the Queen's Medical Center.
Counter service halted momentarily yesterday morning to raise awareness about an automated external defibrillator installed at the restaurant, with a plaque in Kondo's honor.
"McDonald's of Aina Haina was the first store to be built. And today, guess what? We have the first defibrillator," said Glenn Waki, owner of the first-in-Hawaii outlet, which opened in 1968. He has informed neighboring businesses about the defibrillator, donated by Welch Allyn, a manufacturer of automated external defibrillators.
"I believe we need to do everything we can for our customers," said Waki, who has named the AED "ED" in honor of Edwin Kondo.
The American Heart Association and Waki teamed up yesterday to offer a free CPR class to the public in the same area where Kondo collapsed. All McDonald's employees will also be trained to use a defibrillator, which is used to restore the heart to a normal rhythm.
Dr. James Ireland of the University of Hawaii John A. Burns School of Medicine said defibrillator technology has advanced, making the equipment easy to use.
"These events (cardiac arrests) can happen anywhere. They've happened in the marathon, they've happened at airports, they've happened at mall and gyms, so there is no reason why they can't happen at restaurants, too," Ireland said. "The more of these there are out in the community, the more people are going to be saved."
Five people have been saved at Honolulu Airport in the last 22 months thanks to defibrillators, said an American Heart Association official.
The AHA's Pam Foster noted that about 40,000 people could be saved a year with more defibrillators and use of CPR. "Defibrillation is the only cure" for cardiac arrest, she said. "It needs to occur within one to three minutes for a 90 percent chance of survival."
Paramedic Ben Kojima, who responded to Kondo's emergency, said, "Every McDonald's should have one (defibrillator) because there's ... a lot of people who collapse at McDonald's."
One of the firefighters who helped saved Kondo was once a student of his wife's at Blanche Pope Elementary School.
"She gave to me, and I was able to give back," said firefighter Kalei Stephens, who recognized Carol Kondo immediately.
Kondo said she is proud to see a former student doing well. "Now he's helping other people and saving other people's lives."