BASEBALL
MAUI DAY IN THE MLB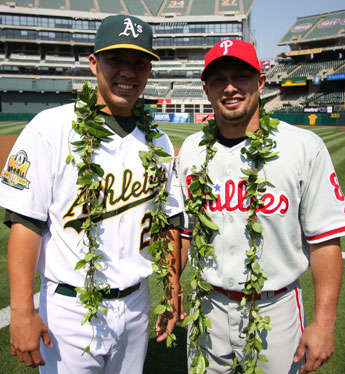 Maui's major leaguers get together
The visiting Phillies' Shane Victorino had the better game at the plate last night at McAfee Coliseum in Oakland. But, at least after the first result of their three-game series, Kurt Suzuki's Oakland A's are No Ka Oi on Maui.
Victorino, a St. Anthony graduate who plays center field for Philadelphia, went 2-for-4 with a stolen base and a run. Suzuki, the A's catcher who went to Baldwin, went 1-for-4, as Oakland won 5-2. It was the first time in Major League Baseball history that two players from Maui went up against each other.
It was also the first time the two competed in the same game since they were in high school. They greeted each other before Victorino came up to bat in the first inning. Both got the first hits for their teams in what started out as a pitchers' duel.
Victorino stole his 18th base of the season off of Suzuki, who is considered one of the better defensive catchers in baseball.