Marathoner can't outpace drug test
Last year's Honolulu winner from Ethiopia is disqualified
STORY SUMMARY »
The two-time defending champion of the Honolulu Marathon, Ethiopia's Ambesse Tolossa, was disqualified as the 2007 winner yesterday. The U.S. Anti-Doping Agency detected that morphine, a banned substance, was in his body, via a testing sample from the time of the race.
Due to the disqualification, Kenya's Jimmy Muindi, the runner-up in the Dec. 9 race, collected his sixth Honolulu Marathon title and the $40,000 first-place prize.
Tolossa is the first disqualified champion of the 35-year-old Honolulu Marathon. He is banned from all international competition until April 2010.
---
FULL STORY »
A winner of the Honolulu Marathon was disqualified for the first time in the 35-year history of the event yesterday.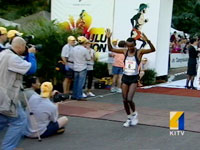 The winner of last year's race has been disqualified after he tested positive for drugs.
Ethiopia's Ambesse Tolossa, the two-time defending champion, was found by the U.S. Anti-Doping Agency to have taken morphine, a banned substance, at the time of the Dec. 9, 2007, race. A decision to ban him from all international competition until April 4, 2010, was handed down yesterday by the International Association of Athletics Federation through Ethiopia.
Tolossa's title now goes to Jimmy Muindi of Kenya, who becomes a six-time champion in Honolulu. He crossed the finish line 1 minute, 27 seconds after Tolossa's winning time of 2 hours, 17 minutes and 26 seconds. Muindi received the $40,000 first-place prize, an increase of $24,000, while his countryman Eric Mzioki slid into second place.
Honolulu Marathon officials became aware of a first positive test just after the beginning of the year, but a second positive test was required before the results could be made official.
Last year was the first time top finishers (the top two men and women, and another person randomly selected from each of the men and women's top 10) were screened for drugs in the Honolulu Marathon since 2000.
"Well, I think it underscored that it's important to have in place," said Dr. Jim Barahal, Honolulu Marathon Association president. "I don't think I'm happy or unhappy about it. I think when you have workplace drug testing -- I do that a lot in my medical life -- you have to be prepared to accept the results.
"Sometimes there's results that can be surprising and an aggravation to you," Barahal continued. "So you have to be somewhat dispassionate about it. Once you have drug testing, you gotta be prepared, you're gonna have some positive (results). ... Obviously it's a little disconcerting."
Muindi's agent, Zane Branson, couldn't be reached for comment yesterday, nor could Tolossa's agent, Federico Rosa.
Barahal and race co-director Ken MacDowell were left scratching their heads over the opiate, morphine, that cost the 30-year-old Tolossa his title.
Running USA's former CEO, Basil Honikman, was equally puzzled at the news. He had trouble recalling other marathon winners disqualified for similar reasons.
"I can't think of how they would benefit from taking opium, heroin or any of the hallucinogenic drugs," said Honikman, who retired in March. "I'm not sure how that's going to help run well, because it's a different kind of pain, I think. The pain of exceeding your limit is different than the kind you have if you've had surgery. They call it pain, but I don't think it's pain in the same sense."
MacDowell has been in contact with the U.S. Anti-Doping Agency, which carried out the testing. He said the particulars of Tolossa's results, such as the level of morphine in his system, are still unknown to them.
He and Barahal haven't yet spoken to Tolossa, and aren't planning to take further action on the matter.
"I think we're kind of done from this end," Barahal said. "I'll probably want to talk to some of the drug people just to see if I can get a copy of the results. I don't think there's much more we can do."
"Could he have had some sort of injury and have taken some sort of opiate derivative for injury control? Who knows what he might have had," MacDowell said. "We could certainly speculate, but the speculation wouldn't do us any good. We have to go with the test results and what they say."
The 2006 female champion of the marathon, Lyubov Denisova of Russia, later tested positive for a banned substance in an unrelated incident. She retained her title, but the outcome helped spark the return of drug testing in 2007, and she was not welcomed back to the Honolulu Marathon.
Honikman placed Tolossa's disqualification in the context of a larger issue at work in major American distance races: Testing standards are tougher and year-round under the U.S. Anti-Doping Agency, compared with those for foreign athletes who fly into the country before big races.
"(Some American runners) felt it was unfair because they were subject, here at home, to out-of-competition testing and so on, whereas a foreign athlete could fly in from somewhere, and a week later win a big marathon," Honikman said. "There's a movement afoot to require testing for these people out of competitions. There's always speculation about the incredible performances of foreign athletes, that perhaps their countries are not as strict as we are and therefore turn a blind eye to drug enhancement."