A flavorful weekend planned at city center
Duane "Dog" Chapman has his way of fighting crime; city Prosecutor Peter Carlisle has his. But what happens when they start cooking?
Chapman, assisted by wife, Beth, and Carlisle, with an assistant to be determined, will compete in a cook-off to help kick off this weekend's Flavors of Honolulu. They take the stage at 7:15 p.m. Friday.
The annual celebration of eating-all-things runs through Sunday and benefits Abilities Unlimited and its programs supporting those with disabilities.
Also competing will be House Speaker Calvin Say against Senate President Colleen Hanabusa at 4 p.m. Saturday. And judging of a Spam recipe contest takes place at 7:30 p.m. Saturday.
The main attraction, though, is the food, served by 13 Oahu restaurants: Bali by the Sea, Cream Pot, Da Spot, Ichiriki Japanese Nabe Restaurant, India Cafe, Koi, Laverne's Catering & Restaurant, Le Crepe Cafe, Mangea!, Mark's Specialties, Planet Hollywood, Senor Frog's and Village Steak & Seafood.
If you're on a budget, scrip cost $5 for nine, and most entrees are priced at eight scrip, although dishes start at four. All eaters are invited to vote in the Most Flavorful Awards.
More highlights:
» Wine will be poured at stations throughout the dining area and Paradise Beverages is hosting beer pubs. Adults need to show proof of age at the ID check tent to receive a wrist band required to purchase liquor.
» Chantal Weaver is organizing a Spencecliff 'Ohana Reunion and hopes to bring together some of the 1,500-plus employees her father's former restaurant chain. Register at the Spencecliff tent, which will also host the celebrity cook-offs.
» KeikiLand offers rides and inflatables, plus kid-friendly foods such as slushes, hot dogs, caramel popcorn, ice cream, shave ice and nachos.
» In celebration of Abilities Unlimited's 25th Anniversary, free admission is offered to all those born or married in 1983. Bring proof of birth date or marriage license.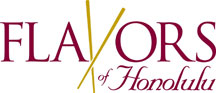 » Hours: 5 to 10 p.m. Friday, noon to 10 p.m. Saturday, noon to 6 p.m. Sunday

» Place: Honolulu Civic Center Grounds

» Admission: $5; $2.50 military and seniors; children free. Free admission for military on Sunday, with scrip sold for food purchases

» Valet parking: Available in front of Honolulu Hale, off King Street

» Call: 532-2100 or visit www.FlavorsOfHonolulu.org
Free parking
» Alapai Transit Center lot (enter from Alapai Street)

» Frank Fasi Civic Center Parking (enter from Beretania Street)

» Board of Water Supply lots off Lisbon or Lusitania streets

» Kalanimoku parking (enter from Punchbowl Street)
ENTERTAINMENT
A jazz and wine tent will be open from 6:30 p.m. to closing Friday and Saturday, and on Sunday afternoon.
Friday
» 5 p.m.: Lion Dance by Lung Kong Physical Culture Club

» 5:15 p.m.: Okame Daiko (taiko drumming)

» 6 p.m.: eightOeight

» 7 p.m.: Rolando Sanchez & the Brown Sound Orchestra

» 8 p.m.: Touch of Gold

» 9 p.m.: Simplisity
Saturday
» Noon: Royal Hawaiian Band

» 1 p.m.: Maunalua

» 2 p.m.: Mighty J

» 3 p.m.: TBA

» 4 p.m.: Ilona Irvine

» 5 p.m.: Friends of Adam

» 6 p.m.: Ka'ala Boys

» 7 p.m.: Tribute to Aunty Genoa Keawe with Pomai Keawe and Hula Halau 'O Napunaheleonapua

» 8:30 p.m.: Jordan Segundo
Sunday
» Noon: Air Force Band of the Pacific

» 1 p.m.: Powerhouse

» 2 p.m.: Tropical Hawaiians

» 3 p.m.: Son Caribe

» 4 p.m.: Kapena

» 5 p.m.: Natural Vibrations