---
Bookshelf
Expand isle java experience
If you are partial to the taste of coffee, chances are you know how to drink it, but that's just a small part of the coffee experience.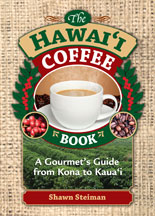 "The Hawai'i Coffee Book" by Shawn Steiman (Watermark, $15.95) presents a collection of recipes for using the brew in such dishes as rack of lamb. But it turns out even that's just a small part of the coffee experience.
Steiman, a coffee scientist who has researched all things coffee and advises growers through his Coffea Consulting company, also offers a guide to coffee farms, cafes and the process of growing, roasting, brewing and tasting.
Want to visit a coffee farm, meet a grower, attend a coffee-related event? Find it here.
A launch party for the book, featuring samples of coffees from all the islands, takes place at 6 p.m. Friday at Native Books/Na Mea Hawaii at Ward Warehouse. Call 587-7766. -- Star-Bulletin
Book serves local food writing
Consider it a mixed plate to go.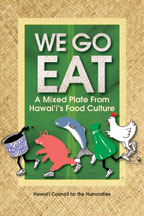 In connection with the "Key Ingredients" exhibition, the Hawai'i Council for the Humanities has published "We Go Eat: A Mixed Plate From Hawai'i's Food Culture," an anthology of articles, short stories and poetry by local writers.
Expect to find tasty treatises on topics from oxtail soup to working at the cannery to the passing of the Columbia Inn.
The 144-page softcover book will be sold for $10 at the Lama Library, or for $14.95, through the Council for the Humanities' office in Kaimuki. Call 732-5402 or e-mail info@hihumanities.org. It will be available in bookstores in about two weeks.