---
FAST FACTS HAWAII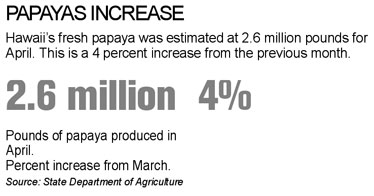 ---
HAWAII
Survey: Gas not halting vacations
A majority of AAA Hawaii members are planning to take at least the same amount of vacation trips this summer compared to last year, according to a new survey by the automobile organization.
The survey showed that 59 percent of AAA Hawaii members plan to travel about the same amount this summer as last year, while 13 percent plan to take more trips than last year and 28 percent expect to take fewer trips.
Most surveyed members said they expected to spend about the same amount or more on travel compared to last summer, while 24 percent said they expected to spend less.
Greenopolis.com debuts
Waste Management Inc.
, the parent company of Waste Management of Hawaii, has launched Greenopolis.com, an interactive Web site and online community encouraging environmental responsibility.
Similar to social networking sites, Greenopolis connects people with businesses on green issues, and serves as an educational tool to teach people about ways in which to be more environmentally sound.
"Hawaii has the highest percentage of Internet users in the nation and Greenopolis is Waste Management's initiative to engage kamaaina and all of our stakeholders in thinking about -- and acting to better -- the environment, our aina," said Joe Whelan, general manager for Waste Management of Hawaii. "We believe that by promoting and creating a dialogue about things such as conservation, recycling, and renewable energy that awareness about our environmental operations and our business offerings will increase."
Coconut Willy's opens CW's
After several months' delay, the owner of
Coconut Willy's
at the International Market Place has opened CW's on Lewers at the new Waikiki Beach Walk.
David Kenney, owner of Coconut Willy's Bar and Grill, said CW -- which stands for Coconut Willy -- will be a nightspot catering to the 21-and-older Waikiki crowd.
Like Coconut Willy's, the 3,500-square-foot CW's on Lewers will offer cocktails, a daily happy hour, flat-screen TVs, dancing and live entertainment.
Besides an expansive dance floor, the highlight of CW's is a custom-made mahogany bar which holds a surfboard signed by Bongo Perkins.
CW's on Lewers will be open from 11 a.m. to 4 a.m., on the ground level of the Wyndham Vacation Ownership-Waikiki Beach Walk at 227 Lewers St.
Target to break ground in Kona
Target Corp.
will hold a land blessing and groundbreaking ceremony tomorrow for its new store at the Kona Commons on the Big Island.
The new store, which will be at the corner of Luhia Street and Makala Boulevard in Kailua-Kona, is expected to anchor the Kona Commons, a mall being developed by the MacNaughton Group and Kobayashi Group.
On Oahu, Target is also expecting to open stores at Kapolei Commons in Kapolei (also developed by the MacNaughton/Kobayashi Groups) and in Salt Lake.
The Kapolei and Salt Lake Targets -- already under construction -- are expected to open in early 2009. The Kona Target is expected to open in summer 2009.
Mobi debuts wireless broadband
Mobi PCS
will launch unlimited high-speed broadband service on Oahu tomorrow. The service, called Hele, starts at $34 a month and does not require a contract, the wireless phone company said yesterday.
Hele's third-generation wireless broadband allows a customer to surf the Web using a laptop or desktop computer from anywhere within the Mobi coverage area on Oahu. A data card embedded with an antenna will pick up the wireless signal. The service requires no phone or cable connection.
It is available at all Mobi locations on Oahu, as well as through its network of 80 dealers across the island. The service is part of Mobi's expansion plan to neighbor islands, but no specific roll-out date has been set yet.
YWCA gets $50,000 grant
YWCA of Oahu has received a grant of $50,000 from the First Hawaiian Bank Foundation, the charitable arm of
First Hawaiian Bank
.
The grant, which will be paid over five years, will support the YWCA's "Power to Change" capital campaign to revitalize Laniakea, the organization's flagship headquarters in downtown Honolulu.
New hires / Promotions
» Indigo Restaurant has named
David Cruz
as head chef. He had worked with executive chef and owner Glenn Chu during the restaurant's opening in 1994 and specializes in integrating and highlighting the flavors and textures of fresh regional and seasonal ingredients.
» Caron B Realty International, an affiliate of Christie's Great Estates has hired Malia Damon as a sales specialist. She specializes in North Shore properties.
» Romano's Macaroni Grill has promoted John Langan to general manager of the restaurant's Queens' Marketplace in the Waikoloa Beach Resort location. He was previously assistant general manager of the Romano's Macaroni Grill in Ala Moana Center since its opening in 2005. His experience also includes general manager of Compadres Bar & Grill in Ward Centre and Lahaina Cannery Mall.
» University of Hawaii West Oahu has hired Elaine Lee as director of institutional research. She is responsible for all institutional data which includes enrollment, demographics and retention, and internal and external reporting on students and faculty. Her previous jobs include legislative analyst for the City & County of Honolulu and an educational consultant for the University of Minnesota.
» Ameron Hawaii has promoted Kevin Abulon to sales/ service supervisor of its Maui division. He will oversee sales activity on Maui which includes quoting prices, developing bid information and customer care.
» Kahala has named Krishna Chatterjee as store manager of its first retail store in Ala Moana Center. His experience includes community relations manager for Lululemon Athletica Honolulu and corporate training and development manager for Jamba Juice Hawaii.
» Belt Collins Hawaii has named Richard S. Abe as principal engineer. He returns to the firm after a 26-year career with the U.S. Army Corps of Engineers. He was a senior project engineer at the firm from 1973-1982 prior to joining the Corps.
» The Hawaii Medical Service Association has promoted Jennifer Diesman to assistant vice president of government relations. She will manage HMSA's state and federal public policy efforts.
» Hawaiian Airlines has named Brian M. Worth as senior director of marketing. He was previously senior director of budget and planning since 2004, and director of in-flight services, budget and manpower since 2000. He joined Hawaiian in 1986 as a flight attendant.
» Walt Disney Parks and Resorts has named Djuan Rivers as vice president of Disney Vacation Club and Resort, Hawaii. His 20 years of experience in Disney include vice president of new business development of Disney Vacation Club and Resorts, vice president of Downtown Disney operations, and general manager of Disney's Wilderness Lodge and Disney's All-Star Resorts, and hotel director on both Disney Cruise Line vessels.


---
BUSINESS PULSE