Plane still at crash site
The man who found the Cessna describes the damaged aircraft
HILO » A federal investigation into the fatal crash of an Island Hoppers tour plane is waiting for the tour company's insurance agent to arrange removal of the plane, National Transportation Safety Board investigator Jim Struhsaker said yesterday.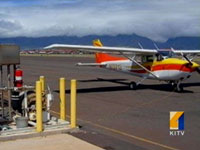 The single engine Cessna crashed last week in a dense forest on the Southeastern slope of Mauna Loa.
The insurance company has the responsibility of selecting a company capable of moving the plane, which crashed June 17 while on an around-the-island flight, killing the pilot and two passengers, he said.
The bodies of pilot Katsuhiro Takahashi, 40, of Kailua-Kona and passengers Nobuhiro Suzuki, 53, and his wife Masako, 56, of Urayasu, Japan, were recovered Sunday morning shortly after the plane was discovered on the slopes of Mauna Loa.
Police said autopsies on all three will be conducted today at Hilo Medical Center. The Hawaii County police chief is technically the coroner for the purpose of the autopsies.
Struhsaker said autopsy results might not be released immediately because authorities might need to discuss the results.
He said a preliminary written statement about the crash might be ready in 10 days, but that a full report will take at least a year.
Helicopter pilot David Okita, who discovered the crash site Sunday at the 5,200-foot elevation on the southeast slope of Mauna Loa, said the plane hit one "significant" tree and clipped several others as it crashed.
One wing was sheared off and the body was crumpled, he said.
Having hovered over the site but not touched down, Okita said he didn't know whether the fuselage of the plane will hold together when removal is attempted.
Flying out the plane or individual parts is easy, because the plane weighs only 1,400 pounds, he said. The tricky part will be to ensure that pieces don't fall off in the air while the plane is being moved, he said.
Late Sunday, Island Hoppers issued a statement expressing sympathy for families of the Suzukis and pilot Takahashi.
"He was considered a 'pilot's pilot,' and he clearly loved to be in the air," manager Wendy Hart said in the statement. "His cheerful presence will be sorely missed."