Baptiste inspired unity for isle good
Colleagues cite the Kauai mayor's work on a coastal bike path and affordable homes
>>
Kauai council members will pick interim mayor
STORY SUMMARY »
LIHUE » Kauai Mayor Bryan Baptiste was remembered yesterday as a politician who could bring people together.
His vision to get a bike path along the Kapaa shore and his tireless work for affordable housing will help thousands of residents for years to come, said associates of the mayor, who died Sunday.
Baptiste presided over Kauai in a time of unparalleled growth and population increases, but also attendant problems. Councilwoman JoAnn Yukimura said Baptiste left his imprint on Kauai through small projects from ball fields to bus stops.
---
FULL STORY »
LIHUE » A who's who of Kauai politics -- from Council Chairman Kaipo Asing to Police Chief Darryl Perry -- streamed through the Mayor's Office yesterday, paying respects to Mayor Bryan Baptiste's close-knit staff.
Bryan J. Baptiste
Born: Kauai, Oct. 25, 1955

Graduated: Kapaa High School; University of Hawaii, bachelor of arts degree, psychology

Father: Anthony Baptiste, longtime chairman of the County Board of Supervisors (equivalent to mayor in current system)

Wife: Annette (Asato)

Children: Brandon, Heather, Lauren and Preston

Job history: Owner, Petals and Passions, a Kapaa florist, 1979-1994

Manager, Kauai War Memorial Convention Hall, 1994-1996

Kauai County councilman, 1996-2002

Kauai mayor, 2002-2008

Memorial services: To be announced
Baptiste, 52, died Sunday of an apparent heart attack.
State Rep. James Tokioka described him as "the least political politician you could ever meet." Baptiste likely will be better remembered for his ability to get others to help than for any bill he got passed, Tokioka said.
Kauai, over the past six years, has seen a major explosion in population growth, an economic expansion in construction and home sales -- and growing pains.
Very few of Baptiste's plans to curb growth and help push Kauai into a specific direction ever became law. His bills were often blocked or rewritten by the Kauai County Council.

But it was his ability to get groups together for the benefit of Kauai that many say will be his legacy.
"It was Bryan's mission to get people involved and to volunteer," Tokioka said. "It's a big part of who Bryan was and what he left."
Baptiste, his close friend Gov. Linda Lingle said yesterday, also "made better use of state projects" than any other mayor in the state. Whether it was getting money to solve Kauai's traffic woes or putting together a state-county-nonprofit partnership to get a homeless shelter built, Lingle said Baptiste had only one thing on his mind: helping the people of Kauai.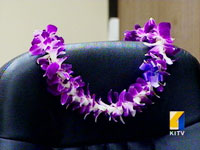 At the mayors office Monday a single lei was draped over his empty chair.
"He was never concerned about how he was going to look," she added. "He just wanted to get things done."
His two major accomplishments, a number of politicians said, were his work to get a coastal bike path built and his struggle to find affordable housing for local families.
Councilwoman Shaylene Iseri-Carvalho, a critic of administra tion policies and projects, including the building of the bike path, said that despite their differences in approach, "we shared the same version of keeping Kauai Kauai."
Toward that end, his advances in affordable housing will be lasting, Iseri-Carvalho added.
At the Ritz-Carlton Kauai Lagoons, affordable housing is planned near multimillion-dollar homes, allowing many families to stay on Kauai, she said.
In a controversial move at the time, Baptiste also removed the homeless from county parks in 2003, causing an uproar, especially because the island had no homeless shelter.
Baptiste helped push through a transitional-housing project in Lihue, and urged the governor to turn the former courthouse into an emergency shelter last year.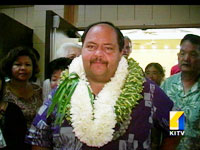 The mayor died just over a week after undergoing a commonly performed heart surgery.
One project used by hundreds of residents and tourists daily is the stretch of coastal path built along the north end of Kapaa town. The Baptiste administration ran into a number of problems, including controversies over dogs on the path, permitting mistakes, even the misplacement of picnic benches.
Still, the path is used by hundreds on a daily basis, and provides a beautiful, safe place to exercise, Councilwoman JoAnn Yukimura said yesterday.
She added that Baptiste left his imprint on Kauai through small projects from ball fields to bus stops, and from the refurbishment of swimming pools to park cleanups. Baptiste was able to get residents -- even the ones who never volunteer -- to get out and fix their neighborhoods.
He would also listen to both sides of every issue.
During the Superferry controversy last September, almost 100 Kauai residents marched to his office to ask him to denounce the Superferry's return to Kauai.
Despite pleadings from young and old, the locally born or those from elsewhere, Baptiste stood firm.
"I feel my role is to bring both sides together, not take sides," he told the crowd. "It's much easier to take a side and do battle" than to remain neutral and work out a solution, he said.