$90M assisted-living community to begin construction in Nuuanu
Arcadia Foundation, an arm of the United Church of Christ, is holding a blessing today to launch construction of a $90 million senior retirement community on 1.5 acres off Nuuanu Avenue.
15 Craigside senior retirement community
Location: 15 Craigside on Craigside Place off Nuuanu Avenue

Units: 170

Construction cost: $90 million

Unit price: $148,000 to $395,000

Completion date: Late 2009

Source: Arcadia Foundation
Construction on the 170-unit apartment complex -- known as 15 Craigside -- is scheduled to begin by summer's end. The first residents of the apartments along Craigside Place are expected to move in at the end of 2009.
The project consists of 27 studios, measuring 475 square feet, and 143 one-bedroom units at 695 square feet with all units licensed for assisted living so people can stay in their unit as they age. It also includes a 45-bed nursing facility.
Arcadia has collected 115 deposits with 92 future residents putting 10 percent down, or between $15,000 and $35,000 each. Unit prices range from $148,000 to $395,000.
"This is a life choice for people, it's not like a Trump condominium where you're going to put your investment in," said Emmet White, president of Arcadia and 15 Craigside. "This is a life-changing decision."
The moderate-income senior community will offer lifetime residency with a range of care that begins with independent living, and if needed, assisted living, skilled long-term care and special care for those who develop Alzheimer's disease and dementia.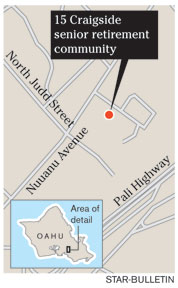 The Hawaii Conference Foundation of the United Church of Christ and the Arcadia Foundation, which operates the Arcadia Retirement Residence on Punahou Street, entered an agreement in May 2006 to develop and operate the project.
The site, mauka of the Craigside condominium complex, was used as the Hawaii Conference Foundation headquarters until 2006.
The state Legislature last year approved special purpose revenue bonds for the nonprofit project to ease a shortage of elderly housing.
At the beginning of 2007, there was a need for more than 300 additional senior retirement community units in East Honolulu alone, according to a feasibility study done by developers, White said.
"There's always a shortage," he said. "So the question is how can you provide quality living and assistance for those who need it as they age at home?"
Each unit will have its own private lanai, individually-controlled air conditioning, electric kitchenette with refrigerator and microwave, an emergency call system monitored by licensed medical staff 24 hours a day, storage space, and Internet and cable TV access. Other amenities will include covered parking, dining options, a wellness center with indoor heated pool, multipurpose theater and entertainment area, library, arts and crafts studio, and salon.