---
FAST FACTS HAWAII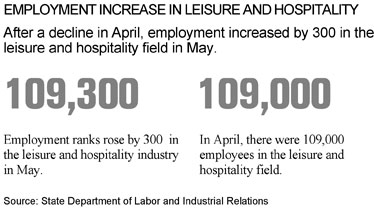 ---
HAWAII
Bankoh is expanding free checking
Bank of Hawaii
is launching free checking for all its customers on Thursday. The free checking account will have no minimum balance requirement and no monthly service charge.
More than 100,000 customers enrolled in several checking account types, such as College Express or Basic Checking, will be automatically converted to the free account. Some customers, such as those who have direct deposit or customers who are 55 and older, already have free checking at the bank.
Starting yesterday, Bankoh customers also are able to open checking and savings accounts online.
Young Bros., boatmen OK pact
Young Brothers Ltd.
and
Hawaiian Tug & Barge
have reached a three-year agreement with the Inlandboatmen's Union of the Pacific. Terms of the agreement, which was ratified Saturday, were not released. The contract was scheduled to end on June 30.
The IBU represents 100 employees, including first and second mates, engineers, able-bodied and ordinary seaman, harbor operators and deckhands, and dispatchers.
The new contract does not include members of the International Longshore and Warehouse Union, whose contract ends at the end of this month, and management employees. The ILWU and Young Brothers have agreed to extend their current agreement.
NATION
Walgreen net up on cost controls
CHICAGO » Drugstore chain
Walgreen Co.
, which began expanding into Hawaii in November 2007, said yesterday its fiscal third-quarter profit rose 2 percent as it focused on cost control and maintained a rapid expansion pace in a difficult retail environment.
IRS increases mileage deduction
The Internal Revenue Service increased the mileage deduction for the rest of the year by 16 percent to 58.5 cents a mile because of the rising price of gasoline. The midyear IRS adjustment allows Americans to use the higher deduction amount from July 1 to Dec. 31 instead of cataloguing actual costs of operating a vehicle for qualified purposes. The mileage deduction for the first half of the year was 50.5 cents per mile.
---
BUSINESS PULSE