---
Isle teen's photos compete online
Cast a vote for Hawaii's Junior Miss Trina Hyun in an online competition that could win her a scholarship.
Verizon Wireless has given each contestant in the 2008 America's Junior Miss Program an LG Venus phone and asked them to upload photos taken with the phones to a Web site. The public can visit the site and vote for the candidate with the best picture album.
The winner gets a $1,000 scholarship.
To vote, or just to peruse the albums, visit www.nbc15online.com/content/AJM/default.aspx.
Voting closes Wednesday, and the scholarship will be presented Thursday during the first preliminary competition.
The finals take place Saturday in Mobile, Ala.
Slam poetry posses go at it tomorrow
The re:VERSES Poetry Collective's "Summer Solstice Aloha Team Slam" takes place at 8 p.m. tomorrow at The ARTS at Marks Garage.
Hosts will be TravisT, Lyz and B-Kwon, with music by DJ Mr. Nick.
Cover is $5. Doors open at 7 p.m. Call 753-4661 or e-mail poetryhawaii@hotmail.com.
Recycling project will accept junk
Bring recyclables to Maunalua Bay Boat Harbor in Hawaii Kai Saturday and support Hui Nalu Canoe Club.
The Third Annual Recycling Community Clean-Up Project welcomes such items as scrap metal, auto parts, bicycles, metal appliances, lawn mowers, pipes, beams, newspaper, cardboard, beverage containers, old passenger tires, green waste, batteries (including car or boat batteries), cellular phones, printer cartridges, magazines, used cooking oil, telephone books, eyeglasses and hearing aids. Computers, one per car, may also be dropped off.
When items can be exchanged for cash, the proceeds will benefit the canoe club.
Reusable household items and clothing may be donated for Goodwill Industries.
Drop-off time is 8 a.m. to 2 p.m. Call 586-6240 or 306-1876 for curbside pickup or to volunteer on clean-up day.
Makana gig's aim is music education
Makana & Friends will perform a free concert Thursday at RumFire in the Sheraton Waikiki to help launch I Ho'ili Kamali'i, a music-education project sponsored by the group.
The concert runs from 5 to 8 p.m., with DJ Mr. Nick picking up with dance music from 8:30 to 11:30 p.m.
Donations to I Ho'oili Kamali'i will be accepted and there will be a drawing for prizes from artists, restaurants and other sponsors.
Proceeds will support Makana's efforts to bring musical experiences to the schools and purchase instruments for students.
E-mail makanamusic@gmail.com or visit www.makanamusic.com.
Radio documentary covers bon dances
Keith Haugen's radio documentary on the background and history of Hawaii's bon dances will be rebroadcast Sunday on Hawaii Public Radio stations.
In "Obon," first broadcast last July, Haugen explains the roots of many traditional songs and discusses the musical instruments used at bon dances.
The program runs at 6 p.m. Sunday on KHRP 88.1. It can also be heard on KKUA 90.7 in Wailuku and KANO 91.1 in Hilo.
For 12 years, Haugen and his wife, Carmen, hosted "Music of Hawaii," which is on hiatus. He also created "Ke Aolama," the Hawaiian language public radio newscast, and "The Hawaiian Word of the Day." Call 955-8821.
'Mamma Mia!' hits Blaisdell next May! ABBA fans exult!
"Mamma Mia!," the hit musical based on the songs of ABBA, will play in Hawaii for two weeks next May.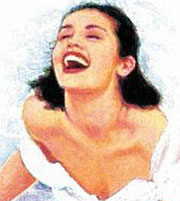 Group tickets sales begin today for the Blaisdell Concert Hall run, May 12 through 24. Ticket sales for individuals open June 27.
The stage production has been seen by more than 30 million people in its six years on Broadway, in Las Vegas and on its U.S. and international tours.
A movie version - starring Meryl Streep, Pierce Brosnan and Colin Firth - opens July 18.
"Mamma Mia!" features such ABBA songs as "Dancing Queen," "S.O.S.," "Money, Money, Money" and "Take a Chance on Me."
Shows will be held at 7:30 p.m. Tuesdays to Thursdays, 8 p.m. Fridays, 2 and 8 p.m. Saturdays, and 2 and 7 p.m. Sundays.
Tickets will run from $40 to $85. For group tickets call the Hawaii Opera Theatre Box Office, 593-2468. Individual tickets will be available at the Blaisdell Box Office and Ticketmaster locations. Call (877) 750-4400 or visit www.ticketmaster.com.