---
FAST FACTS HAWAII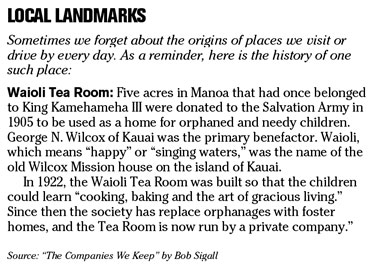 ---
NATION
Internet advertising dips slightly
NEW YORK » Internet advertising revenue dipped slightly in the first quarter to about $5.8 billion, ending a streak of 13 quarters of consecutive quarterly growth.
The first-quarter figures from the Interactive Advertising Bureau still represent an increase of 18 percent from nearly $4.8 billion in the first quarter of 2007. And the fourth quarter is generally stronger because of holiday sales, so a dip between the fourth and first quarters is not unreasonable.
But the numbers suggest the overall economic slowdown might be dampening online advertising.
PricewaterhouseCoopers LLP, which conducts a quarterly survey for the advertising trade group using data from the 15 largest online ad sellers, sought to play down the one-quarter dip.
"The fundamentals of interactive advertising spend continue to be positive, and I would expect to see continued growth in the future." said David Silverman, a partner at PricewaterhouseCoopers.
Job jumpers often disappointed
The new co-worker sitting next to you is a real beam of light. Everyone loves him. But don't be jealous -- he's more likely to have his high hopes dashed after the honeymoon glow of the new job has worn off, and more likely to seek out another job.
A study of recent recipients of business degrees found that those with "positive affects," or very cheerful dispositions, tended to expect high salaries -- about $100,000 more over the course of a career than the rest of us. When higher pay doesn't materialize, they're more likely to crash and burn, then seek out a new position, said Dr. Olivia O'Neill, head of the study and a management professor at the University of Georgia.
"These people change jobs as many as five times in four years," she said. "Presumably they keep thinking the next job's going to be better than the previous one."
But it's not. The disappointments keep building, salaries don't rise as much as anticipated, and dealing with new people, responsibilities and major life changes constantly can floor even the most positive.
O'Neill recommended staying on with one organization, even if it is not your dream job. Constantly seeking out new companies seems to doom positive people: They suffer from more than just career dissatisfaction.
"These are the unhappiest people," said O'Neill.
O'Neill collaborated with Laura Stanley, Kanu Priya and Charles O'Reilly on the study. They tested 132 MBA graduates from 1987-1995, once while they were students and then twice more over an eight-year span.
Used car might be best buy
Commutes are getting longer and gas has skyrocketed past $4 a gallon. New hybrid cars have impressive fuel economy. But it'll cost you. The 2008
Honda
Civic Hybrid, for example, has a suggested starting price of $22,600. A bare-bones
Toyota
Prius from this year has a suggested retail price of $21,500.
You might want instead to consider a used car with good mileage. Consumer Reports magazine lists the following used cars with the best gas mileage, according to its tests, in a given price range.
Under $10,000:
» 2000 Honda Insight (manual), 51 miles per gallon
» 2001-02 Toyota Prius, 41 mpg
» 2000-05 Toyota Echo (manual), 38 mpg
» 1998-2002 Chevrolet Prizm, 32 mpg
» 1998 Mazda Protege LX, 32 mpg
» 1998-2000 Toyota Corolla CE/LE, 32/31 mpg
Between $10,000 and $20,000:
» 2004-06 Toyota Prius, 44 mpg
» 2003 Toyota Prius, 41 mpg
» 2006-07 Honda Civic Hybrid, 37 mpg
» 2003-05 Honda Civic Hybrid, 36 mpg
» 2007 Honda Fit Sport (manual), 34 mpg
» 2007 Toyota Yaris Liftback (manual), 34 mpg
Tips on how to dress for work
Go ahead and wear low-cut tops to work. Just don't mope over getting passed over for promotions.
So says Barbara Pachter, business etiquette expert.
Yes, it's summer and it's hot. But, "It's still business, you're still at work," says Pachter. "Anything that is sexy ... people are going to talk about what you wore."
More sartorial advice:
» Keep skirts and dresses around the top of the knee or longer.
» Stay groomed. For a woman, shaving your legs may be a personal choice, but if you want others to talk about your work and not your body hair, it might be best to conform. Men should not let nose and ear hair get wild. And everyone needs deodorant.
» Clothes should not be tight or too big.
» If you can't dress yourself, find help. Pachter advises fashion magazines, coaches or personal shoppers.
» Keep accessories minimal.
» Leave flip-flops for the beach. To summer-ize your wardrobe, work in lighter colors and lighter fabrics instead. Shorts, for men and women, are usually only appropriate for the most casual work environments.
» Women should honestly assess their legs. Bottom line: If they're unsightly, wear pantyhose.
"If you want to play in the corporate world, it's usually best to wear the uniform," Pachter said.
---
BUSINESS PULSE