SPECIAL REPORT
Torn by conflict
The state Attorney General and a watchdog agency put the heat on Helemano Plantation, which cares for the mentally disabled
STORY SUMMARY » | READ THE FULL STORY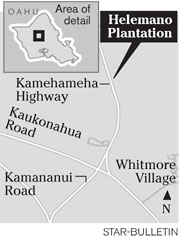 The atmosphere seems tranquil at Helemano Plantation, the Central Oahu community for the developmentally disabled, but its founder and president, Susanna Cheung, is riled up. For more than three years Cheung has battled the Hawaii Disability Rights Center, a watchdog agency whose mission is to protect the disabled from abuse and neglect.
The center alleges a range of improprieties by Opportunities for the Retarded Inc., the nonprofit that runs Helemano. The costly dispute has dragged on in federal court, and spilled over to the Legislature.
Now, Cheung's nonprofit faces an investigation by the state Attorney General's Medicaid Fraud Unit, according to documents obtained by the Star-Bulletin.
"I'm so frustrated," Cheung said. "We did nothing wrong. ... We have nothing to hide."
KEN KOBAYASHI and SUSAN ESSOYAN
FULL STORY »
First of two parts
The state attorney general's office is investigating possible Medi- caid fraud by the operators of Helemano Plantation, the Central Oahu facility long praised for sheltering, training and caring for adults with developmental disabilities.
Today
» Helemano Plantation and the Hawaii Disability Rights Center at a glance.

» Volunteer doctor served time for Medicaid fraud.
Tomorrow
» Conflict of interest alleged at Helemano.

» Institutions give way to community integration for disabled.

» Clients' pay scale questioned.
The probe by the office's Medicaid Criminal Fraud Unit is the latest twist in a bitter dispute between two nonprofit organizations, both committed to helping the disabled.
On one side is Opportunities for the Retarded Inc., which runs the operation at Helemano, opened in 1984 as an all-inclusive community for the retarded amid the pineapple fields of Wahiawa.
On the other is the Hawaii Disabilities Rights Center, a watchdog designated by the state to protect Hawaii's tens of thousands of disabled residents from abuse and neglect.
The conflict focuses on the competing needs for government oversight versus patient privacy. The center says it was stonewalled when it tried to gain access to confidential ORI records to assess allegations of wrongdoing at Helemano. It turned to federal court.
While judges affirmed the center's right to certain records, ORI fired back with court claims that the watchdog agency was abusing its authority. The legal tussle has stretched on for nearly three years, costing both sides tens of thousands of dollars.
The battle also spilled into the state Legislature, which recently approved a financial and management audit of the Disability Rights Center, at the urging of ORI. The center had issued a blistering report raising questions about the management and finances at Helemano -- allegations that ORI strongly denied.
In recent weeks the state's Medicaid fraud investigators subpoenaed records pertaining to ORI from the center, according to documents obtained by the Star-Bulletin. The attorney general's office declined to comment.
ORI officials said they do not believe they did anything wrong, and expressed dismay with yet another investigation but said they would cooperate fully.
UP CLOSE |
Helemano Plantation
Helemano Plantation, with the slogan "Where Aloha Begins," was established in 1984 in the fertile fields north of Wahiawa.

Its founder, Susanna Cheung, wanted to build a community where developmentally disabled adults could live, work, learn and play together. Today there are 60 clients at Helemano, 42 living in cottages on the site and 18 who come for services daily.

Cheung has created a cluster of companies at Helemano. Opportunities for the Retarded Inc. is the nonprofit social service agency that provides education, training, employment and housing. Its latest tax return shows revenues of $5 million, mostly from the government, with $5 million in expenses.

Its affiliate nonprofit, ORI Anuenue Hale Inc., is building a day-care center for senior citizens next door. The organization brought in $6.5 million in revenue, largely government funds, and had $1.7 million in expenses for the tax year ending June 30, 2006.

Helemano Plantation Inc., a for-profit company, runs a restaurant and gift shop where clients can get work experience, as well as a farm. Helemano Services and Management Inc., another for-profit business, provides custodial and food services to military bases. 2828 Travel Inc. is a travel agency headed by Cheung's husband.

Source: Helemano Plantation and government records
"We have nothing to hide," said Susanna Cheung, ORI's founder and president.
Although the strife has festered for more than three years, the two central characters have never sat down to sort out their differences.
Cheung, a feisty immigrant from Hong Kong who built the cluster of care homes at Helemano, threatened to go to jail rather than comply with a federal court ruling ordering her organization to turn over information to HDRC.
"I'm so frustrated," Cheung said of the center's efforts. "Without any cause, they just shoot and kill. We did nothing wrong."
She is proud of the community that she and her loyal staff have built at Helemano, with its red-roofed cottages, flowering gardens, classroom, farm, restaurant and gift shop. Her top staffers count their length of service in decades.
"We built this program with our bare hands," Cheung said. "Our heart and soul, it's all committed."
Gary L. Smith is the equally tenacious leader of HDRC, part of a nationwide network granted investigative powers by Congress to help protect the disabled. He wrote the controversial 46-page report that alleged double-billing, mismanagement of patients and low wages at Helemano. The report was based on allegations from a complainant with knowledge of ORI, interviews with eight clients and reviews of some of their records. HDRC did not disclose the names of those individuals.
Smith says Cheung has been "remarkably successful" in creating a sheltered community. His goal, he said, is simply to help improve the facility and protect its clients.
"Probably the saddest thing in all of this is all of the guardians, the parents of the people who are there, ORI has convinced them that our goal is to close the place," he said. "Here you have elderly parents. They've got a middle-aged retarded child that they hope is going to be taken care of when they're gone.
"And now you've got this agency trying to close down that place. So of course they hate us and are scared to death of us."
Smith insists that the center does not want to shut down Helemano.
The dispute started in 2004 when the center tried to get access to Helemano's clients and records as part of its mandate to ensure that deficiencies found by the Centers for Medicaid & Medicare Services had been corrected.
The following year it filed the first of two federal lawsuits to gain access. ORI denied any wrongdoing, questioned the center's authority and filed a countersuit seeking money damages for "abuse of process."
U.S. Magistrate Judge Leslie Kobayashi ordered ORI last year to produce the names of representatives of Helemano clients to get permission to review the records. U.S. District Judge David Ezra affirmed the order.
After Ezra's ruling, Cheung wrote memos to state officials saying she would not produce the information, even if it meant she had to go to jail. She said the center had not shown why it should have confidential information.
"I am so sorry that the agency and I are wasting our financial resources on unnecessary legal fees," she wrote. "I strongly feel that my energy should be concentrated on a critical need -- which is transitioning fragile and aging clients to appropriate services."
ORI, however, later complied with the order and supplied the names of 27 client representatives to HDRC. The federal court case is now in mediation to resolve the pending claims, including ORI's countersuit and the center's request for attorneys' fees of about $100,000. ORI officials say they have incurred upward of $80,000 in legal fees.
As the litigation
dragged on, a second front in the dispute opened at the state Capitol. Sen. Robert Bunda (D, Wahiawa-Pupukea), who represents the area and calls Helemano his "favorite charity," pushed for legislation to audit HDRC to make sure it is acting properly. ORI officials called the move long overdue.
UP CLOSE |
Hawaii Disability Rights Center
The Hawaii Disability Rights Center is part of a network established by Congress to advocate for people with disabilities and protect them from neglect and abuse.

The private, nonprofit center, established in 1977, is Hawaii's designated protection and advocacy agency for the disabled. Its mission is to protect and promote the human, civil and legal rights of people with disabilities.

In Hawaii about 180,000 residents, or 15 percent of the population, have disabilities. Among them are those suffering from developmental disabilities, which refer to conditions evident at birth or during childhood that impair a person's ability to function in society. They include mental retardation, autism and cerebral palsy.

The center offers advocacy for individuals as well as groups of people with disabilities, along with information and referral, education and training.

It works to promote self-determination and integration for people with disabilities and to prevent physical, psychological or financial harm.

Headquartered in downtown Honolulu, it has a staff of 18 to 20 employees and an annual budget of about $1.8 million. The federal government provides roughly 90 percent of its budget, with the rest coming from the state.

Source: Hawaii Disability Rights Center
Emotions boiled over during a legislative committee hearing last year. Louis Erteschik, HDRC staff attorney, said at one point Bunda offered to drop the audit bill if the center would drop its investigation of Helemano. Smith said he was shocked by the remark.
Bunda recalled a "shouting match" with Erteschik but could not recall his exact words. He said he never intended to make an offer and was just trying to "see what their reaction was."
"They didn't back down at all," Bunda recalled.
In May the Senate and House overwhelmingly approved the audit, which is due before next year's legislative session.
HDRC's release of its scathing report on Feb. 15 incensed ORI officials. The report was dubbed "preliminary" and contained a disclaimer that investigators had been denied access to relevant records.
Among its allegations are that ORI operates a "closed community" and has a conflict of interest by acting as landlord, health provider, service provider, employer, case manager and de facto guardian for some residents.
The report also said ORI does not adequately manage medication for clients, fails to provide appropriate treatment and pays clients poorly.
Medicaid records for its clients included double-billing and other irregularities, the report also alleged. In some cases, it said, ORI billed Medicaid for institutional care and community-based care for the same client at the same time, although the two programs are mutually exclusive.
ORI officials responded that the center had embarked on a "witch hunt." They said the report was laced with misstatements, false insinuations and speculation, and relied on "serious baseless accusations." They accused the center of releasing the report without first giving ORI a chance to respond to the allegations in hopes of preventing the audit.
"It appears HDRC has used any possible means to continue to damage and slander the reputation of ORI," the officials said.
As for the alleged double billing, ORI Program Director Ron Renshaw said that Medicaid would have denied any such claims.
"Even if by accident I billed for that, I wouldn't get paid," he said. "It can't be done. It would spit it out."
ORI officials say their operation recently got a clean bill of health from the state. They point to a two-month investigation last year by the Department of Human Services' Adult and Community Care Services Branch that found no evidence of "financial exploitation," "negligent treatment" or "maltreatment."
Patty Johnson, who was the administrator for the branch, said department investigators reviewed records of 12 resident and day-care clients at ORI selected at random.
"We felt the residents at ORI were all safe from any form of adult abuse," she said.
Dennis Chun, ORI board member, suggested to lawmakers that HDRC was out of its depth and overstepped its authority, which should focus on preventing "abuse and neglect." He said the center should leave issues like billing practices or conflicts of interest up to agencies that enforce the laws.
A subpoena issued by the attorney general's Medicaid Criminal Fraud Unit asks for documents from HDRC "regarding fraud in the Medicaid Program of Opportunities for the Retarded Inc. and fraud involving Medicaid clients/beneficiaries receiving services from Opportunities for the Retarded Inc."
HDRC's report did not provide any figures for the amount of money involved in the allegations.
The center said it delivered about 3,800 sheets of paper -- the equivalent of a file box -- to state investigators last month. The attorney general's office also requested information from three other state agencies, Smith said.
Alfredo Domingo, special agent with the fraud unit that sought the records, declined to comment. He referred questions to Attorney General Mark Bennett, who also had no comment.
ORI officials expressed shock when they learned about the probe last week.
Cheung questioned what would happen to the Hawaii Disability Rights Center and to Helemano Plantation if the investigation does not find any Medicaid fraud.
She said HDRC never provided any names of clients who were neglected or abused, yet "our reputation has been tarnished."
Ann Higa, ORI chief operating officer, said they do not think investigators will find any wrongdoing.
"We follow all the requirements that are imposed upon us," she said. "We try to do our best. I don't see how or where they would even get that idea (Medicaid fraud)."
Chun said the probe means Helemano Plantation faces another investigation without knowing the specific allegations.
"It's always fighting ghosts," he said.
History of the Dispute
Aug. 25, 2005
Hawaii Disability Rights Center files a federal lawsuit seeking access to records of Opportunities for the Retarded Inc., which operates Helemano Plantation. ORI questions whether HDRC was denied access and contends records are confidential under federal and state laws.

June 11, 2006
Lawsuit settled with both sides agreeing to a process by which the center can obtain records.

August 2006
A complainant with knowledge of ORI, whose name remains confidential, alleges to HDRC officials a range of improprieties at Helemano.

Nov. 9, 2006
HDRC files a second lawsuit seeking access from ORI to pursue the allegations. The claims include "mismanagement of client funds, theft, fraud, misapplication of medications, verbal abuse of clients and concealment of records and files of clients from HDRC's regular monitoring activities." Lawsuit contends ORI violated the earlier settlement agreement. It seeks access to Helemano's clients' guardians and legal representatives to get their permission to review client records.

Dec. 20, 2006
ORI denies the allegations, contends it has tried to cooperate with HDRC and files a counterclaim alleging HDRC has "an improper ulterior motive" for filing its suit. The "abuse-of-process" counterclaim asks for an unspecified amount of money from HDRC.

March 1, 2007
The Department of Human Services' Adult and Community Care Services Branch completes a two-month investigation at ORI facilities and says it found no "financial exploitation," "negligent treatment," "maltreatment" or "psychological abuse."

Spring 2007
State lawmakers consider a resolution, backed by Helemano supporters, calling for an audit of the Disability Rights Center. The resolution fails. The center contends the move for an audit was an effort to discourage its investigation of ORI.

Feb. 15, 2008
HDRC releases to the state Legislature preliminary findings of its "investigation of a report of neglect and abuse" at ORI. The 46-page report is based on reviews of eight clients' records plus information from the complainant. Among its allegations: abuse and neglect of clients, improper Medicaid billings and low wages for clients.

March 5, 2008
ORI denies the allegations in a 40-page rebuttal. ORI says HDRC's report is laced with "misstatements of fact and false insinuations."

May 2008
The state Legislature overwhelming approves a bill calling for a financial and management audit of the HDRC. The deadline is 20 days before the 2009 legislative session. Gov. Linda Lingle signs measure.

May 2008
In response to a subpoena, HDRC turns over documents to the Attorney General's Medicaid Fraud Control Unit.

Currently
Mediation is under way on pending legal claims between the Disability Rights Center and ORI.