| | |
| --- | --- |
| | What the Heck? |
---
Kaneohe garage hosts cutting edge in knife design
Ken Onion's office is his Kaneohe garage. It looks like a normal garage workshop, if you don't count the high-end computer numeric-controlled milling machine and the array of custom-made knife prototypes.
Onion is the most famous knife designer in America. He came to Hawaii originally with the Marines, fell in love with a Chinese-Hawaiian hula dancer, wife Noel, and stayed.
In 1992, Onion was working at a refinery here when coworkers dropped an asphalt pump on him. The accident left him with 11 back surgeries (so far), a lingering distaste for disability payments ("I finally told them to keep the money," he says) and a determination to turn his hobby, knife-making, into his profession.
In '96, he patented one of the few innovations in knife design in decades, a SpeedSafe system that allowed the user to unfold a knife one-handed.
In '98, a failing knife company named Kershaw hired him as chief designer. It quickly began to prosper.
On June 1, Blade magazine named Onion to its Cutlery Hall of Fame. He's one of only nine members, and, at 45, the youngest by 20 years. His friends celebrated last weekend with a party at Vino, each guest receiving a Kershaw mini-Cyclone SpeedSafe.
After designing sporting knives that were nearly works of art, Onion spent 18 months watching students at the Oahu's Culinary Institute of the Pacific and studying tapes of cooking shows before designing the now famous Shun line of ergonomic cooking knives.
Finally, he created the Zero Tolerance line of military knives -- and insisted the manufacturer donate 5 percent of all sales to the charity closest to his heart, the Paralyzed Veterans Heritage Fund.
Google Onion's name, and you get 300,000 hits. Hardly anyone in Hawaii has heard of him. "I never did this for personal recognition," he says. "I just wanted to follow my passion. The knife is mankind's most important invention. Over human history, it's done more good than harm."
It's Music, It's Major, It's Free
Grammy nominee Cyril Pahinui, son of the legendary Gabby Pahinui, and his wife Chelle have been quietly putting together a major concert for Aug. 9.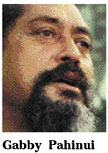 To be held at Waimanalo Beach Park, it's dubbed the Gabby Pahinui Waimanalo Kanikapila. It's supposed to remind everyone of the backyard jam sessions for which Pops was famous.
The concert's already attracted a $5,000 grant from the city. Musicians are clamoring to sign up. The concert will be the first public appearance of the Pahinui Hawaiian Band, which includes Cyril and brother, Martin, and Pops' grandsons -- Gabby and Kale Pahinui, and Kunia Galdeira, plus Peter Moon's son, Peter Jr.
Best news: Like the backyard kanikapila, this concert's free.
Cyril and Chelle are looking for sponsors to pay the nearly 60 musicians at least a small stipend.
"The musicians have been so incredible," says Chelle. "They've all said, 'Don't worry. If you don't get the money, we're doing it anyway.'"
Chef on the Run
Talked to Hawaii superchef Roy Yamaguchi, who was actually in Hawaii last week -- just back from the Aspen Food and Wine Classic, part of his 20th anniversary nationwide tour that concludes in October with a $1,000-a-plate fundraiser here.
The peripatetic chef stuck around long enough to repack his suitcase for Venice, Italy, where he hops a private cruise ship to Croatia, cooking for the 100 or so lucky souls on board.
"As long as I was going to be in Croatia, I thought I might as well fly up to Moscow," says Yamaguchi. "I want to try out all the vodkas. Maybe go to a caviar market or two."
Naked Truth on Campus
Last Thursday, members of a fraternity at the University of the Philippines ran stark naked through the Quezon City campus, while hundreds lined the avenue, snapping photos and cheering.
The Alpha Phi Omega fraternity runs nude each year, for complex social and political reasons. This year, the university administration asked the fellows to do so early, to help celebrate the university's centennial anniversary.
You'll recall that University of Hawaii at Manoa also celebrates its centennial this year. Any plans?
Not Exactly Bigamy
At the Little Kitchens event last weekend -- the "Slow Food" benefit cooked up by the Honolulu Weekly -- I ran into Savas Mojarrad, owner of the popular Olive Tree restaurant in Kahala.
Mojarrad is also building a restaurant in the old Beau Soleil space in Manoa. "So you're going to have two?" I asked.
"Don't know," he shrugged. "Having two restaurants is like having two wives -- and one is too many."
Rock 'n' Roll Will Never Die
"I'm old. I'm 41," lamented Andrew Bugreyev, who's turned his downtown Mercury Bar into a refuge for the young and hopelessly hip.
He sure didn't look old, dancing with tattooed girlfriend Kitty Chow to his favorite band, BariBari13.
BariBari13 is a collection of Honolulu-based Japanese rockers. They dress more like '50s American hipsters than real American hipsters ever did. They sport shades and leather jackets. One has a blond mane that looks like Dog Chapman's mullet on steroids.
To their credit, they really rock -- mostly in Japanese. The only words I could pick out were: "Baby, baby, baby, Rock 'n' Roll." But really -- what more needs to be said?