Boss busted in boy's sex assault
A portable toilet firm's worker tells police his employer abused him
The 56-year-old operator of a portable toilet rental company was arrested and charged yesterday with sexually assaulting a 15-year-old male employee on four occasions over one year.
Police officers with a search warrant found photos of other boys, which led them to believe there might be others who also have been sexually assaulted by the suspect, Henry Moisa.
Police are asking for any other victims to notify police.
"In this case, because they are males, there might be shame coming forward and saying that you're a victim of a sex assault," said Honolulu CrimeStoppers Coordinator Kim Buffett. "It's not normal. But in this case, you know, you have a victim that already came forward, and he (the suspect) was arrested. And, you know, with family support, friends' support and HPD right here, we'll help you through this. So if there are any victims, please come forward."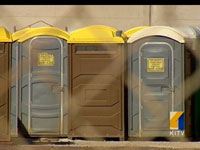 Police charged 56-year-old Henry Moisa of Nanakuli with four counts of first-degree sex assault and police believe that there are more victims.
Moisa, who runs A's Party Portables, was arrested at his Maili home yesterday at 4:10 a.m. Moisa was arrested on four counts of first-degree sexual assault and one count of promoting pornography for minors. He was charged on the four counts of first-degree sexual assault and is being held on $250,000 bail. He is scheduled to appear in court Monday.
He has no prior criminal convictions.
The 10th-grader told a police detective that he had applied for a summer job in 2007. The boy described four sexual assaults, which allegedly occurred from May 31, 2007, to May 5.
The latest sexual assault occurred at Moisa's home in Maili at 87-2148 Farrington Highway, Apartment A, where Moisa allegedly performed oral sex on the teen while pornography played on the television, a police affidavit said.
A's Party Portables is listed in the telephone directory at the same address.
Moisa allegedly told the teenager to remove all his clothes to be measured for a uniform as part of the interview process, police said. While the boy stood naked, Moisa allegedly performed oral sex on him. While the boy was working for him, Moisa allegedly performed the same acts on him - once at Bellows Beach Park and once at Camp Mokuleia.
Anyone with information concerning this case or related cases is asked to police at 529-3115, and anonymous calls may be made to CrimeStoppers at 955-8333 or *CRIME on a cell phone.