Park yields grisly find
Two people discover the body of a man bruised and bloodied
Police are investigating the "suspicious death" of a man whose body was found yesterday at the archery range at Kapiolani Park near Diamond Head.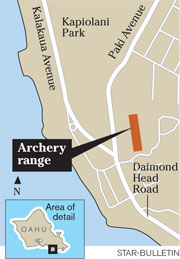 Two passers-by found the man, believed to be in his 40s or 50s, before noon after walking by him for a second time that day, said Honolulu police Capt. Richard Robinson.
Police classified the case as an "unattended death with suspicious circumstances," pending an autopsy. Robinson said the body had injuries and that the man was well dressed.
Paramedics pronounced the man dead at 12:08 p.m., said Bryan Cheplic, Honolulu Emergency Services Department spokesman.
Willie Laird, who is homeless, said he walked by the man at about 8 a.m. and thought he was sleeping. He noticed something was amiss when he returned with a friend after 11 a.m. and saw the man still there.
"I was going to sit down and relax," he said.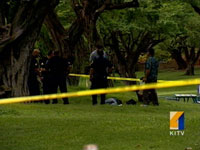 Two men say they thought the man was sleeping before noticing he was covered in blood and then called police.
He walked closer, and from 10 feet away he could see the blood on the man's neck, so he called police.
His friend, who declined to give his name, said he looked at the man's stomach and noticed it was not moving.
"I saw blood on his shoulder, on his arm," said the man, who is also homeless. "When I saw that lump on his head, on his face ... I told him I had to walk away from the scene because I felt like puking."
The body lay in the grass about 50 yards from Paki Avenue, makai of the archery, and near the entrance to La Pietra-Hawaii School for Girls. It was curled on its side, beneath a patch of trees, on a gentle slope away from the street.
The man wore faded blue jeans, a green-and-brown shirt and white socks. A pair of white shoes rested behind his feet, and a black bag or jacket was near his head.
"This looks like the person lay down, took a nap and never came back," said Stephen Smith, a security guard for a secured community on La Pietra Circle.
He checked the park at about 6 a.m., but he did not see anyone at that time. He did not hear anything unusual until the emergency vehicles arrived when the body was found.
Resident Jane Tatibouet, a former state representative, said that for the past 10 days, she has seen someone sitting in the area in the morning. She did not know if it was the same person yesterday.
"It's a very peaceful park," she said, adding that yesterday's discovery does not change her opinion. "I don't feel any different about this neighborhood. It's great. You feel very safe."
Another resident said he has seen homeless people and strangers hanging around at night and worried the victim could be one of his neighbors.
"There's all kinds of suspicious people lurking around," said Kendric Wong. "I'm not surprised. I'm superdisturbed by it. It's unsettling."