| | |
| --- | --- |
| | Wood Craft |
---
IZ's 'Rainbow' greets Russert's crowd
The late
Israel "IZ" Kamakawiwoole's
version of "Over the Rainbow" was played just before mourners left the memorial service for respected TV newsman
Tim Russert
at Washington's Kennedy Center Wednesday.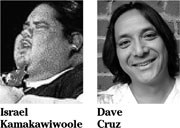 As people stepped outside, they were greeted by a vibrant double rainbow spanning the length of the National Cathedral. The memorial service was broadcast on MSNBC and coverage of IZ's "Rainbow," coinciding with "Russert's Rainbow," was widespread and discussed by media stars such as
Anderson Cooper
and
Larry King
on their television shows.
Brian Kilmeade
of Fox News described the event as "superhuman." Mountain Apple company reports that IZ's "Facing Future" CD, featuring "Over the Rainbow," is near 2 million in sales ...
Little Waiahole Elementary, with just 82 students, came up with 105 shoeboxes filled with items for the homeless, winning first place in Chinen & Arinaga Financial Group's homeless campaign. The winner was determined by the number of students in a school and the number of boxes they came up with, according to Chinen's John Au. Some donations came in containers much larger than shoeboxes and they were gladly received. This is the second straight year that Waiahole won the $500 contest in which Castle complex schools, mainly elementaries, participated. Second and third places went to Ahuimanu and Benjamin Parker elementaries, respectively. The boxes were delivered to the Windward Homeless Coalition. Waiahole Elementary marks its 125th anniversary Sept. 13 ...
CRUZING AT INDIGO AFTER NA HOKU AWARDS
After Tuesday night's Na Hoku Hanohano awards,
John Cruz
celebrated his "One of These Days" Contemporary Album win with a knockout victory party for stars, his family and friends at Indigo. Indigo was picked because John's brother
Dave Cruz
is the new chef there. John's other brothers
Guy
and
Ernie Jr
. and his dad,
Ernie Sr
., were in the house. Going at it with the Cruzes in a kanikapila jam session were: Siblings
Amy Hanaialii
and
Eric Gilliom, Barry Flanagan
and
Robert Cazimero
. John is booked Tuesday at Indigo ... Hilton's Village Steak & Seafood restaurant has moved to the resort's former Golden Dragon spot ...
Ben Wood
, who sold the Star-Bulletin in the streets of downtown Honolulu during World War II, writes of people, places and things in our Hawaii. E-mail him at
bwood@starbulletin.com